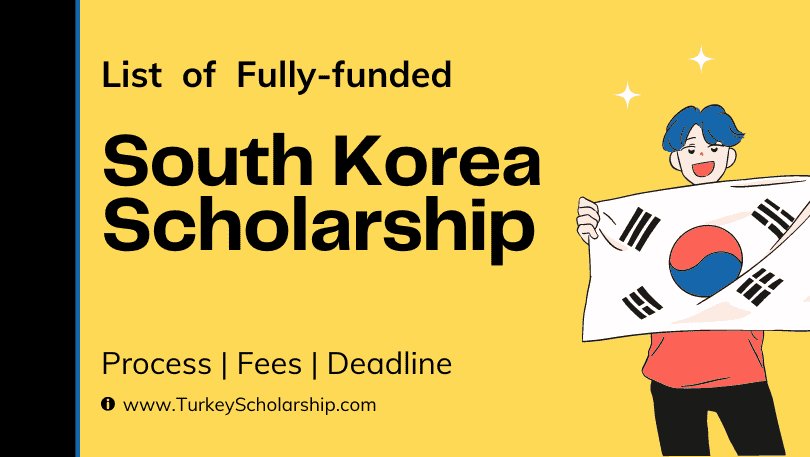 Fully Funded Scholarships in South Korea 2023 – Online applications for the partially and fully covered Korean scholarships granted by the Korean Government, charitable organizations, and Korean universities are currently open. Interested students from every corner of the world can apply for these scholarships for undergraduate, MS, postgraduate, dual degrees, and associate programs. Meanwhile, IELTS scores are not mandatory for these funded scholarships. But students from non-English speaking countries must abide by the language proficiency requirements via TOEFL, TOPIK, TOEIC scores, & English Language Certificates.
Let's Check What's Sponsored Under Korean Scholarships:
Get ready to enjoy your educational journey in Korea under the following exciting benefits offered by the Korean scholarship programs; Free Korean Language Program, Free Return Air Tickets, Monthly allowance, Health & Accident Insurance, Settlement Allowance, Scholarship rewards of variable amounts, tuition fee waiver or discounts, free medical services, meal cost coverage, and much more.
Want to Know how many funded scholarships are offered in Korea?
South Korea has various renowned educational institutions and research laboratories offering the below-listed scholarship programs for different educational degrees, like BS, MS, & Ph.D.:
GKS SCHOLARSHIP PROGRAMS:
The first name on our list is the very reputable Global Korean Scholarship, an initiative by the honorable Korean government for international students willing to complete undergraduate and Associate degree programs in South Korea. Every year around 220 funded GKS scholarships are granted to deserving students to strengthen the friendly relationship between Korea & other countries. GKS for a BS degree is for 4 to 6 years. However, for an Associate degree, the scholarship validity is 2 to 3 years, with one year of free Korean language Training.
Next is the valuable Korean Government Scholarship, a fully-funded scholarship program for eligible candidates from lower-income countries. Interested individuals from such states can apply for the KGSP for undergraduate, Master's, and postgraduate programs in different disciplines.
Meanwhile, applicants with Korean citizenship are not eligible to apply for the scholarship. In the same way, applicants must be below 25 years with a CGPA of 80% to become eligible for the undergraduate KGSP programs. However, for Master's scholarships, the age limit is below 40 years.
In partnership with prestigious Korean Universities like Seoul, the Korean government has announced various generous scholarships for BS, MS, & Doctoral courses. Eligible ones can apply for the Seoul National University scholarships, offering partial/full tuition-fee coverage to selected winners.
Seoul National University is a selective institution with a 15% acceptance rate and an application fee of KRW 70,000 for BS programs and KRW 90,000 for graduate programs. Meanwhile, interested applicants can apply for the SNU President Fellowship Program, Silk-Road Scholarships, Service Scholarships, etc. However, acceptable language tests are; IELTS, TEPS, & TOEFL.
Korea Advanced Institute of Science and Technology Scholarships:
It is also known as KAIST, with application charges of $80, & an acceptance rate of 15% to 21%. KAIST is famous for offering 330 fully-covered scholarships to passionate overseas applicants enrolled in Bachelor's, Master's, and Ph.D. programs.
If you want to apply for the following KAIST scholarships, submit IELTS or TOEFL iBT scores to meet the language proficiency requirements. However, available sponsored scholarships are; National Scholarships, Academic Excellence Sponsorship programs, Labor Scholarships, & more.
Korea University Funded Scholarships:
Another renowned university that is playing a crucial role in promoting affordable yet high-quality education among underprivileged overseas applicants is Korea University. It is a university that charges KRW 100,000 as application fees.
Meanwhile, the acceptance rate for this university is around 25%. Moreover, fully-funded scholarships are open for BS, MS, and Dual degree programs, accepting IELTS, TOEFL, TOPIK, and TEPS scores for language proficiency requirements. Meanwhile, notable scholarships by the University of Korea include BK21 Scholarships, Global Leader Scholarships, KIEP GPAS Research Scholarship, and many more.
Scholarships by Sejong University:
Sejong University is another famous name contributing to providing free education to overseas students. It is known for offering undergraduate and graduate courses with fully-sponsored scholarships, covering academic and financial coverage.
In the meantime, the individuals are bound to pay KRW 120,000 as application charges. Meanwhile, the acceptance language tests for Sejong University Scholarships are; TOEFL, TOPIK, or New TEPS scores. On the other hand, the prominent scholarships by Sejong University include; GKS, Sejong Research Scholarship, SEARCA Joint Research Program, etc. Similarly, the acceptance rate of noble Sejong University is 40%.
Yonsei University Valuable Scholarships:
Are you willing to complete your higher studies in South Korea free of charge? If it is a yes, here is your chance. Yonsei University has announced a 100% tuition-fee waiver for the students studying here under academic scholarships.
Submit the language scores of TOEIC, IELTS, TOEFL iBT for Yonsei scholarships and apply for the following programs; Jinri Scholarships, GKS awards, Yonsei Alumni Scholarships, etc. Meanwhile, Yonsei is a partially selective university with around 39% to 42% acceptance rate and $150 application charges.