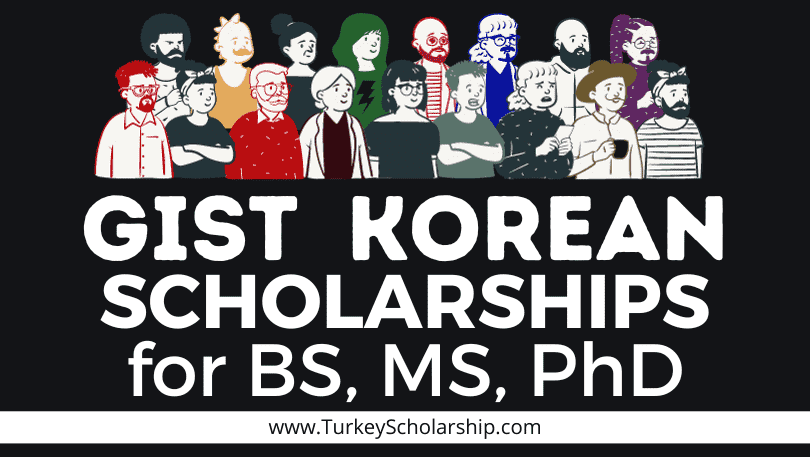 The Gwangju Institute of Science and Technology (GIST) in South Korea will soon be inviting applications for the fall 2024 admissions session on fully funded GIST Scholarship for the academic year 2024-2025. This Korean scholarship at GIST is available to students, researchers, and technical professionals pursuing MS, Ph.D., or an MS leading to a Ph.D. degree. The GIST scholarship 2024 initiative aims to advance science and technology by providing comprehensive support through research-oriented projects and courses.
The GIST Scholarship is administered by the Gwangju Institute of Science and Technology in collaboration with the South Korean Ministry of Science and Technology. It is open to international candidates from all countries and covers tuition fees, a one-way airline ticket to South Korea, and monthly stipends.
GIST offer Admissions in following Courses in 2024
GIST offers courses in diverse fields, including electrical engineering, computer science, chemistry, biomedical science, life science, material science, engineering, physics, environmental engineering, and artificial intelligence. Notably, all classes are conducted in English, and the application process can be completed online.
GIST Sponsorship Details
The GIST Scholarship provides comprehensive financial support, including full tuition fee coverage, a monthly stipend, a meal allowance, an international student allowance, and a research assistantship for those involved in research projects.
Tuition Fee Coverage: 100% support for all international students.
Monthly Stipend: Varied based on degree level – 140,000 Won for Master's degree students and 295,000 Won for Ph.D. students.
Meal Allowance: 100,000 Won for both MS and Ph.D. students, contingent upon the completion of at least 9 credits in the previous semester.
International Student Allowance: 120,000 Won for MS and Ph.D. students maintaining a GPA of 3 or higher out of 4.5 in the previous semester.
Research Assistantship: MS and Ph.D. students engaged in research projects receive 5,461,249 Won and 12,513,688 Won per year, respectively.
Flight Coverage: One-way flight to Korea for all international students.
Health Insurance: Partial coverage (60%) of national health insurance, including annual medical checkups.
Here is more clear information summary of GIST Scholarship 2024 benefits:
| GIST 2024 Benefits | What is covered under GIST 2024 scholarship? |
| --- | --- |
| Tuition Assistance | Tuition fully supported: 3,415,000 won per semester. A one-time matriculation fee of 680,000 won may be charged, with possible exemptions. |
| Monthly Stipends | Student allowance: 140,000 won per month for M.S. students, 295,000 won per month for Ph.D. students. Meal allowance: nearly 100,000 won per month. Students should have completed at least 9 credits in the previous semester for the above two allowances. International student allowance: 120,000 won per month for those with a GPA of 3.0 or higher (out of 4.5) in the previous semester. |
| Research Assistantship | Average as of 2021: 5,461,249 won per year for M.S. students, and 12,513,688 won per year for Ph.D. students participating in research projects. |
| Housing | Monthly fees vary for different dormitory types and married student apartments (as of 2022). Waiting times for housing may be longer than expected. Housing fees increase annually, and utility fees are charged separately. Additional costs may occur for wall papering or flooring. |
| Health Insurance | 60% of National Health Insurance is supported for all international students. Other insurance options may exist. An annual medical checkup is included. |
| Flight Reimbursement | Reimbursement for a one-way flight to Korea is provided for all incoming international students. This reimbursement is applicable for the first-time use only. |
GIST Scholarship 2024 Eligibility Criteria
To be eligible for the GIST Scholarship in South Korea 2024, applicants must:
Have completed or be on track to complete their bachelor's degree.
Hold a bachelor's degree equivalent to a Korean bachelor's degree.
Be international students.
Be proficient in English.
Application Process of GIST Scholarship based Admissions in 2024
Applicants must apply online for the Korean scholarship. The application process includes submitting a matriculation fee of 680,000 KRW, which may be waived on the recommendation of the dean or head of the department or college. It is crucial to complete the GIST online application form thoroughly, providing all required information. In cases where certain information is unavailable, applicants should denote this with "NA" (not applicable).
List of Required Documents for application:
Documents required for the GIST Scholarship application include:
Official transcripts and degrees.
Two letters of recommendation.
Official English language test report.
Copy of the applicant's passport.
GIST Scholarship Application Deadline
The deadline to apply for the GIST Scholarship for the year 2024-2025 is April 15, 2024.
Apply Now: GIST Scholarship Application Portal
Official Link: GIST Official Scholarship Information