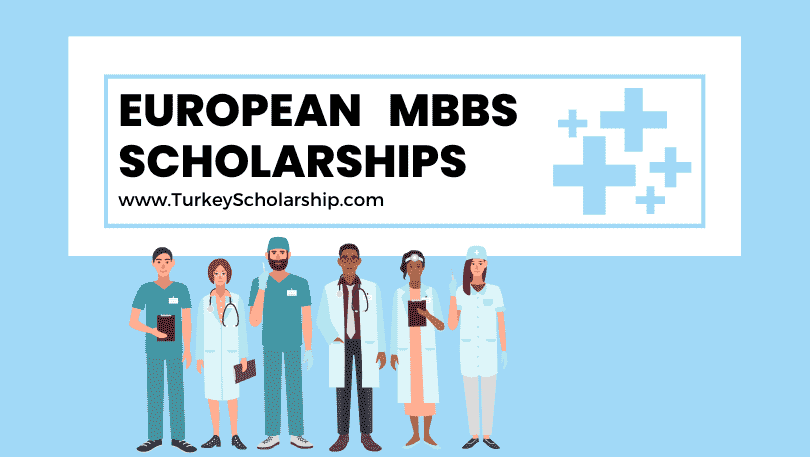 International and domestic students can pursue medical degrees in Europe from highly reputed Medical Colleges and Universities, offering scholarships and specializations in versatile fields. Applicants can apply for the scholarships online via the official application portal for the intake session in 2023.
Indeed, European medical universities have set the standards that attract overseas candidates to study here to make their dreams come true. However, tuition fees of these medical universities cost a bit much in the pocket of students. But the scholarship schemes cover most of the financial expenses. On the other hand, these medical degrees are available in the following fields: Radiology, Ophthalmology, Pediatrics, Psychiatry, Geriatrics, Diagnostics, General Medicine, Anatomy, etc.
English Requirements to study in European Medical Schools:
Interested applicants are bound to submit the following language test scores to meet the language criteria of European Medical Schools:
IELTS
TOEFL
IB
ECPE
PTE
CAE
DET
GTEC
ELS
MELAB
TOEIC
ESOL
FCE
Funding Packages by the European Medical Universities Scholarships:
Financially unstable students, facing difficulty in paying the high tuition fees of Medical Schools of Europe, can apply for the funded scholarship schemes and win infinite sponsorship coverages.
Health Premium/insurance coverage
Partial / Full Tuition Fees Exemption
Fundings to attend Medical Seminars & Conferences
Living Allowances
Travel Expenditures coverage
Free of charges Accommodation Service
Free Meals
Scholarship Rewards of variable amount
Clinical Training Practice
Funds to conduct Research Programs & Thesis
Study Material / Books/ Medical Equipment Funds
List of Scholarship Offered by the European Medical Schools in 2023:
Following is the list of Europe's top countries having prestigious medical universities with globally recognized medical degrees and sponsored scholarships.
1# Medical School Scholarships in Germany:
Germany's Medical Universities are best known for offering specialized degrees in Anatomy, General Medicine, Biochemistry, Ophthalmology, etc.
Overseas and domestic candidates planning to obtain medical degrees from reputable German medical colleges can opt for the University of Heidelberg, RWTH Aachen University, Lübeck Medical School, University of Magdeburg, Würzburg University, etc.
Moreover, partially and fully-funded scholarships at German Medical Universities are; Habilitation Scholarships, Doctoral Scholarships at the Faculty of Medicine, Amirana Scholarship, Doctoral scholarship in the GRK, and many more.
2# Medical Schools Scholarships in France:
France is the country in Europe that has the finest medical universities, like Sorbonne Université, Université de Paris, University of Paris-Saclay, Aix-Marseille University, etc. However, these medical universities are highly famous for specializations in Anesthesiology, General practice, Pediatrics, Psychiatry, etc.
Meanwhile, scholarships offered by the France Medical Universities are; TIGER Master Excellence Scholarships, International Master's Scholarships, Eiffel Ph.D. scholarships, Merit-based scholarships, etc.
3# Medical School Scholarships in Italy:
Various globally acknowledged medical universities are there in Italy, known for having medical specializations in the following fields: Dermatology, Immunology, Internal Medicine, Endocrinology, and Allergology.
Eligible candidates have a wide variety of options to choose from among these top universities, like the Sapienza University of Rome, the University of Turin, Milan International Medical School, & the University of Bologna.
Scholarships by the Italian Medical Schools are the following: International Post-degree Scholarships, national or international scholarship programs, Milan Excellence Scholarships, Galeno Eleonora Cantamessa scholarships for doctors under 40, and many more.
4# Medical School Scholarships in Poland:
The next name on our list is Poland which owns top-ranking medical universities popular for medical specializations in Surgery, Anesthesiology, and Internal & Pulmonary diseases. Students who want to make their career in the field of health and medicine can apply for admission at the following universities; Jagiellonian University, Wroclaw Medical University, Medical University Gdansk, Medical University Warsaw, etc.
Moreover, applicants will get financial aid through these scholarships, like the Erasmus Mundus Scholarship, Honorary Doctorate Awards, Ministry of Health Awards, Rector's Scholarships, etc.
5# Medical School Scholarships for the Netherlands:
The Netherlands is one of the most beautiful countries in Europe, with outstanding medical universities recognized for their specializations in General Practice, General Medicine, pediatrics, & internal medicine.
International students are welcome to complete their medical education at various prestigious universities, including the University of Amsterdam Medicine Faculty, Vrije Universiteit Amsterdam, University of Groningen, Leiden University, etc.
On the other hand, these universities have announced scholarship schemes for below average-income students. Applicants can apply for Amsterdam Merit Scholarships, VUFP scholarships, ATTP master Scholarships, Becas CONACyT, & Yenching Academy Fellowship.
6# Medical School Scholarships for Switzerland:
Swiss Medical Schools are considered the best medical institutions in Europe, with medical specialties in General Surgery, Internal medicine, Gynecology, & Venereology.
Financially unprivileged students can get enrolled in these top-medical universities; the University of Basel, University of Geneva, ETH Zurich Medical School, & the University of Bern.
Students can also enjoy financial and academic assistance via Hs. H. Günthard Master Scholarship, Swiss Government Scholarships, MD-PhD scholarships, Swiss Study Foundation Scholarships, etc.
8# Medical Schools Scholarships in Sweden:
Like the other countries of Europe, Sweden is also leading with many popular medical schools, providing the following famous medical specialties: surgery, geriatrics, primary care, & family medicine.
Here are a few most dominating names of Sweden Medical Universities: Karolinska Institute, Lund University Faculty of Medicine, Uppsala University, and Sahlgrenska Academy Institute of Medicine at Gothenburg University.
The most rewarded scholarship programs available for the eligible candidates are; KI-DIS Fellowships, EU Scholarships, Lund University Global Scholarship, Jubilee Scholarship, and Department of Molecular and Clinical Medicine Ph.D. Scholarships, and many more of that.
9# Medical School Scholarships in Austria:
Austria has some recognized medical universities with specializations in numerous dominant fields, like Epidemiology, Genetics, Immunology, Neuroscience, & Toxicology.
The best four medical universities in Austria are the Medical University of Vienna, Medical University of Graz, Medical University of Innsbruck, & Johannes Kepler University Linz Faculty of Medicine.
However, available scholarships with valuable benefits by the Austria Medical Universities are; the University of Graz Research Scholarships, IAEA Marie Sklodowska-Curie Fellowship Program, New Orleans Doctoral Research Fellowship, JK Graduation Scholarships, etc.
10# Medical School Scholarships in Greece:
The Faculties of Medicine and Health Sciences at numerous Universities in Greece are known for offering specialization programs in Toxicology, Neuroscience, Genetics, Nutrition Sciences, and Anatomy.
Applicants can apply for admissions at the National and Kapodistrian University of Athens Medicinal Faculty, Aristotle University School of Medicine, University of Patras School of Health Sciences, University of Crete Medical School,
Scholarships by the Renowned Medical Schools of Austria that grants academic coverages are; Merit Scholarships by the University of Athens, Friedrich Ebert Stiftung International Scholarships, Andreas Mentzelopoulos Scholarships, Hellenic Foundation for Research and Innovation (HFRI) Scholarships, etc.