Documents
Statement of Purpose (SOP) or Personal Statement for Turkey Scholarship Application Submission
Statement of Purporse (SOP) Template and Example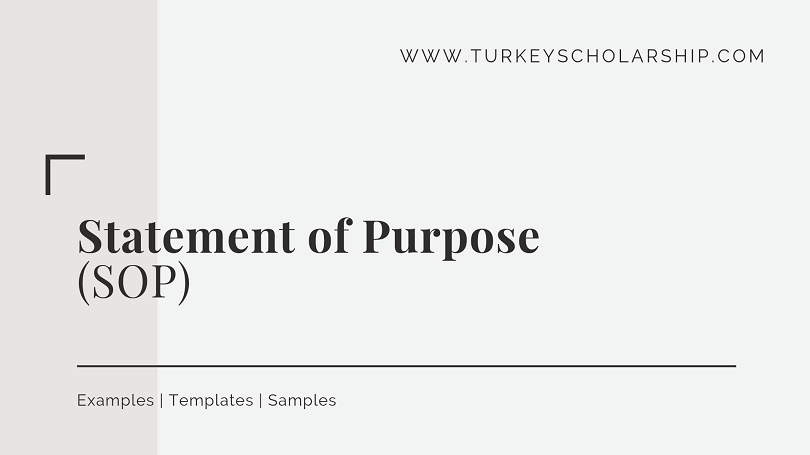 Statement of purpose also known as SOP or letter of intent is referred to as a document that reflects the intentions of a candidate. The goal of preparing a statement of purpose (SOP) is to make the readers, in this case, the selection committee or faculty, that you have real accomplishments to back you up and that show your potential to do well in the graduate course. Statement of Purpose is also known as a letter of intent in some cases and can be submitted with the scholarship application, resume and cover letter.
4 Steps in Writing a Statement of Purpose for Turkey Scholarship application
For this reason, you are supposed to consider the statement of purpose as being a sum-up of four different things
#1 An introduction of yourself, your inspirations and the interests you have
Here, you ought to make known to them the things that interest you and maybe even what triggered your decision to go for the graduate study. In light of this, it is supposed to be short and straightforward with no need to capitalize on an autobiography.
#2 Paraphrase your undergraduate and previous graduate history
The research you carried out- Record who you did it with, its title, the things you had to do, and the results of your research. You are expected to write this in a technical sense in line with what your discipline mandates because it will be read by professors.
Critical paper or thesis project you did together with any other scholarly work that superseded the requirements of your curricular.
Work background, particularly if you had experience in research, testing, interning, or designing, in an area that resembles the study you have gone for in the graduate program.
#3 Talk about the importance of your past and present endeavors
In case you graduated and worked before going back to graduate school, make it known what exactly your duties involved. This includes details like whether it was with a company or not-for-profit, your work, or the design team, duties, the skills you came out with. You can as well record how that practice equipped your resolve to graduate studies.
#4 Shed light on your academic interests
In this section, you ought to record the things you are interested in acquiring from the graduate program. Make it clear so that the readers are able to relate with you and believe that you understand what the research is about and that it is in line with current research topics.
Identify the specific area that you are interested in. Most preferably, present a question, state what the problem is about, or identify a topic, which you desire to talk about. The questions you indicate ought to be drawn from contemporary research and a sizeable paragraph.
Research over the internet for details about departments that interest you, including professors and the works they did in research. Go for the professors whose works are in line with what you want to do and identify the exact program if possible naming the professors you may work with.
The statement of purpose takes a positive approach to close with a light touch on you expressing how you are excited and ready for the challenges that come with the graduate study.
6 Tips for Writing a Statement of Purpose (SOP)
The things that the admission team will spot from reading your preparation including your competence, self-motivation, and even your potential as a graduate
Stress every detail from a positive point of view and written in an active and not passive sense.
Illustrate everything with an example without coming out as being very persistent.
In case there is something important that happened to you that influenced your grades including poverty, sickness or too much work then make it known. Present this affirmatively in writing showing your resilience despite the difficulties. Use the personal statement as a means to give details.
Be sure to associate everything with continuity and focus.
Remain concise, stating everything that is required. Use between 500 and 1000 words properly selected using 1-2 single space pages in a 12-point font. All along, this estimation is more ideal than more words that are less clear and have poor structure.