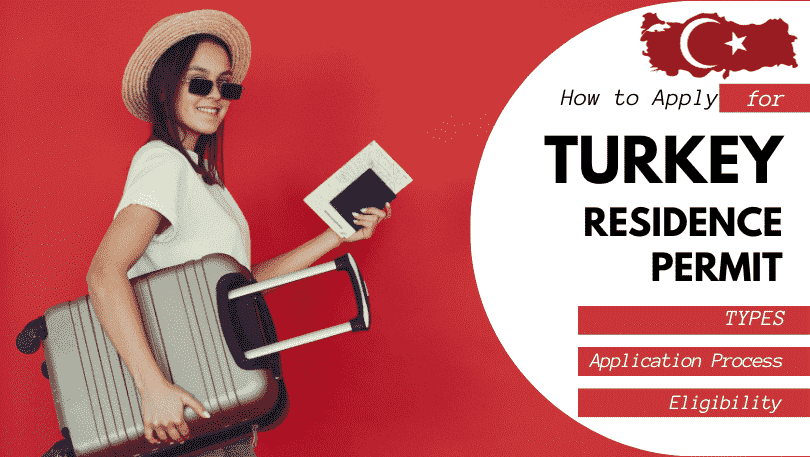 A Turkish visa is necessary for short-term visits, tourism, business travel, and transit, ensuring legal entry and controlled access to the country. It is a requirement based on the purpose and duration of stay, allowing authorities to regulate entry and conduct security checks.
On the other hand, a Turkish residence permit is needed for extended stays, work, study, family reunification, and long-term activities. It provides legal residence status, access to essential services, work authorization, and is essential for those planning to stay beyond the duration allowed by a tourist visa. Both the visa and residence permit play distinct roles, catering to different needs and durations of stay in compliance with Turkish immigration regulations.
Information Available in this Article
Turkey, with its rich history, vibrant culture, and strategic location, is an increasingly popular destination for individuals seeking to live, work, study, or retire. For those looking to extend their stay beyond the typical tourist visa period, acquiring a residence permit is essential.
In this article, we'll explore the step-by-step process of obtaining a Turkish residence permit, the significance of the YU number, associated fees, and why it's crucial even if you already have a Turkish visa.
Understanding Difference Between Residence Permit and VISA
The main difference between a residence permit and a visa is the duration of stay. A visa is a document that allows you to enter and stay in a country for a specific period of time, typically up to 90 days. A residence permit, on the other hand, allows you to live in a country for an extended period of time, typically up to 1 year or more.
Another key difference is that a visa is issued by a country's embassy or consulate abroad, while a residence permit is issued by the country's immigration authorities after you have entered the country.
Types of Turkish Residence Permits Available in 2024
Turkey offers a range of residence permits tailored to specific purposes and the following list outlines some of the most common types of Turkiye residence permits available to foreigners in 2024:
1# Tourist Residence Permit: For foreign nationals intending to stay in Turkey for tourism purposes exceeding 90 days.
2# Student Residence Permit: For foreign nationals enrolled in a full-time study program at an accredited Turkish educational institution.
3# Work Residence Permit: For foreign nationals offered employment by a Turkish employer.
4# Family Residence Permit: For the spouses, children, or parents of Turkish citizens.
5# Retirement Residence Permit: For retired foreign nationals with sufficient financial resources to sustain themselves in Turkey.
6# Real Estate Residence Permit: For foreign nationals who own property in Turkey valued at least $75,000.
7# Investment Residence Permit: For foreign nationals investing a minimum of $500,000 in Turkey. In addition to these common permits, there are specialized options:
8# Humanitarian Residence Permit: For foreign nationals seeking refuge from persecution or violence in their home countries.
9# Temporary Protection Residence Permit: For foreign nationals unable to return to their home countries due to natural disasters or armed conflict.
10# Short-term Residence Permit for Scientific Research: For foreign nationals conducting scientific research in Turkey.
11# Long-term Residence Permit for Highly Qualified Personnel: For highly skilled foreign nationals with a job offer from a Turkish employer.
How to Get Residence Permit of Turkey in 2024?
Applying for a residence permit in Turkey involves several steps, and the process may vary depending on the type of residence permit you are seeking. Here is a general protocol on how to apply for a residence permit in Turkey in 2024:
1# Determine the Type of Residence Permit:
There are various types of residence permits, including short-term, family, student, long-term, and more. Identify the type of permit that suits your situation.
2# Visit the E-Consulate System:
Access the official Turkish government's e-Consulate system at https://www.econsulate.gov.tr/. And create an account if you don't have one.
3# Complete the Online Application:
Fill out the online application form with accurate and up-to-date information. Upload the required documents, including your passport, passport-sized photos, and any specific documents related to the type of residence permit you are applying for.
4# Pay the Application Fee:
Pay the Turkish residence permit application fee of 110TL plus 160TL for residence card fee through the online system.
5# Schedule an Appointment:
After completing the online application and paying the fee, schedule an appointment at the nearest Migration Office (Göç İdaresi) through the e-Consulate system.
6# Attend the Appointment:
Visit the Migration Office on the scheduled date and time and bring all the required documents in both original and photocopy form.
7# Biometric Data and Interview:
During your appointment, you may be required to provide biometric data (fingerprints) and undergo an interview, depending on the type of residence permit.
8# Wait for Processing:
The processing time for residence permits can vary. You can check the status of your application through the e-Consulate system.
9# Collect Your Residence Permit:
Once your application is approved, you will receive a message notifying you to collect your residence permit from the Migration Office.
10# Apply for Renewal of Turkish Residence Permit in time if its close to expiry:
If you plan to stay in Turkey beyond the validity of your residence permit, make sure to apply for a renewal before it expires.
What is YU Number and its Significance?
YU number is the Turkish abbreviation for Yabancı Uyruklu Kimlik Numarası, which means Foreign National Identity Number. It is a unique 11-digit number assigned to all foreign nationals who legally reside in Turkey. The YU number is used in many official transactions, such as applying for a residence permit, registering for a job, and opening a bank account.
To obtain a YU number, foreign nationals must apply to the Directorate General of Migration Management (DGMM). The application process is relatively straightforward and can be completed online or at a DGMM office. Applicants will need to provide their personal information, passport information, and proof of residence in Turkey.
Once the application is approved, the applicant will receive a YU number card. This card is valid for the duration of the applicant's residence permit. If the applicant's residence permit is renewed, they will receive a new YU number card with the updated expiration date.
The YU number is an important document for all foreign nationals living in Turkey. It is important to keep the YU number card safe and to carry it with you when conducting official transactions and Hhere are some of the benefits of having a YU number:
It allows you to open a bank account in Turkey.
It allows you to apply for a job in Turkey.
It allows you to register for social security and health insurance in Turkey.
It allows you to apply for a driver's license in Turkey.
It allows you to purchase property in Turkey.

It allows you to travel freely within Turkey.
If you are a foreign national living in Turkey, I recommend that you apply for a YU number as soon as possible. It is a valuable document that will make your life in Turkey much easier.