Documents
CV for Scholarship – Resume for Scholarship Samples
Resume for Scholarship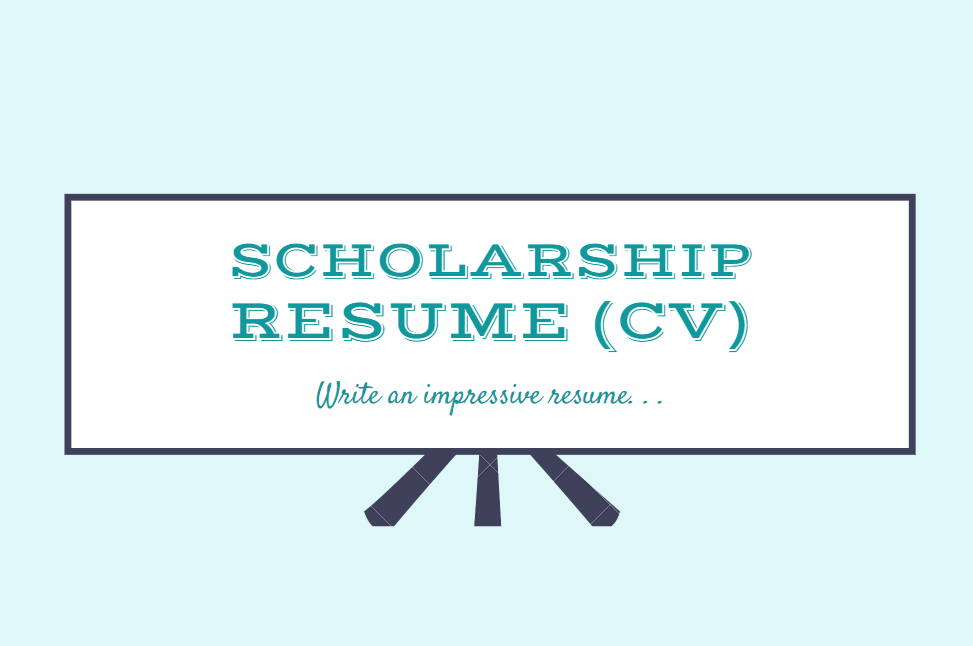 Most of the time you will encounter a situation when a CV for a Scholarship will be required. With thousands of people applying for the same position as you, you know that in order to win the scholarship, you'd have to leave a memorable impact. This is where your CV might serve as a tool for you- a market strategy, that would state all of your experiences, accomplishments, and professional qualities to the reviewing committee.
As you might already know, the resumes that you write out for getting admitted and the CVs written out for the application are different, in terms of their length and format. A CV can take a handful of pages, but a resume is generally limited to a page. A resume is more often used for the purpose of academic search or fellowship, where a CV gives in relevant details about the student and depicts whether that student meets the criteria the committee wishes to see in the winner or not.
This scholarship CV must be made with a sense of direction and should give a brief overview of the applicant's life, such as there: qualifications, their aims, and their achievements.
Steps to Complete Your Scholarship CV
Collect Crucial Info:
Take time to gather and read the details before getting started. It's better to plan out and send a CV, rather than send one and not get selected. Sit down and create a list of all of the awards, qualifications, and achievements that you might have earned over the years. Make sure to put these pointers in an organized manner, starting with your latest achievement.
Other related Details you Should Mention:
Your national language and the ones you can speak.
Skills relating to current technological advancements.
Grades and performance at schools.
Your objective and what this scholarship means to you and your aims.
Information that includes religious or political views, marital status, and gender orientation should not be included in your CV.
Note Alert:
Don't ask someone else for a favor and make them write your CV. Get online, do some research, find some examples and write it on your own, because your aims cannot be better explained by someone, who's not you. Sure, take opinions and advice, or even make someone read it out for you, but write it out on your own. Because, the effort that you might put in your CV, is the effort you'd be putting in your future.
A good CV would generally have its details constructed in the following format:
Include These at the Start of your CV:
Name- First and last.
Home address with postcode.
Current contact number with the area code.
A professional Email address.
Gender, Nationality, and date of birth with the specified format.
End Your CV by:
Mentioning achievements related to academia and any of your experience at work.
Stating your abilities.
Adding in at least three references.
How to format a Scholarship Resume?
Make sure that your CV is 'two' pages long.
Keep your tone professional and curt. Use formatting, such as bold and italics only where you need to highlight a key term or for headings.
Keep it honest and to the point.