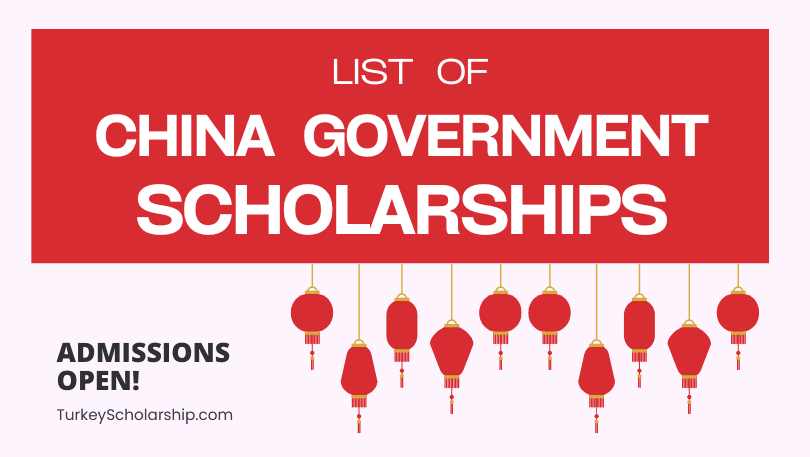 Applications for the fully-funded China Scholarships for the intake session of 2023-2024 are currently open for international students. Interested ones can benefit from the opportunity and finance their BS, MS, & Ph.D. studies at prestigious institutes in China under the Chinese and Provincial Government scholarships with the aid of renowned universities.
Meanwhile, eligible students can apply for these scholarships without IELTS scores as alternative tests, or language proficiency certificates are also eligible. However, students applying for university-sponsored scholarships for the Bachelor's, Master's, or Ph.D. degrees must abide by the language and entrance criteria and submit the application within the due date.
Sponsorship Package of China Scholarships 2023:
Deserving international scholars will get the chance to enjoy dozens of financial and scholarly benefits throughout the degree program. Meanwhile, scholarship rewards and tuition grants are based on performance, degree programs, and grades.
The winners of China Government Scholarships will be entitled for the following set of academic funding grant:
Full Tuition Fee Waivers for BS, MS, & Doctoral students
Monthly stipends of various ranges
Health and Medical Insurance Package
Free Accommodation at the suitable place
International Air Travel Package
Free Chinese Language course
Funds for Research Programs
Allowances for English-Taught Programs
Foreign students willing to pursue an undergraduate degree program in the versatile fields at Chinese universities under the scholarship scheme must see the below-mentioned programs.
1# Beijing Municipal Government Scholarships 2023:
Beijing Municipal Scholarships are the gateway to studying in Beijing, China, free of cost because it is a fully-funded scheme available for students who wish to pursue an undergraduate degree from renowned institutions. Meanwhile, Overseas bachelor's students will receive RMB 20,000 as a scholarship reward to cover their essential expenses with monthly stipends and residence facilities.
However, IELTS scores are not necessary for the Beijing Municipal Govt programs. Candidates can opt for the Chinese or English language proficiency certificate and apply for this scholarship while studying at China Central Academy, China University of Law & Political Science, etc.
2# CSC Government Scholarships 2023:
The Chinese government has made all efforts to make healthy and friendly relationships with other countries. For this reason, CSC scholarships for international undergrads have been announced in partnership with various Chinese universities, like Shanghai University. These scholarships are available in Chinese and English for the respective students. Meanwhile, applicants will enjoy living stipends of CNY RMB 2500/ month, free accommodation, and tuition fee waivers.
The application system is online, but non-Chinese candidates can apply for the CSC scheme via the university track or embassy track with IELTS or TOEFL scores, two recommendation letters, and a preference letter.
3# Shanghai Government Scholarships:
Another exciting yet valuable opportunity for overseas candidates is SGS, which offers a free Bachelor's degree program to international students facing financial challenges in completing their undergrad degrees in China without a scholarship. Hence, the Shanghai Government scholarship is all set to help these needy students by providing fully-funded sponsorship packages covering medical insurance, fee exemption, monthly stipends, on-campus accommodation, and much more.
Considering the eligibility criteria, applicants must be non-Chinese, below age 23, and in good health. However, the language scores of the selected university are accepted for this program.
4# Peking University Scholarships:
Like the Government of China, the universities in China also play a crucial role in promoting education among overseas students from low-income countries for a BS degree program. Peking University is also one of those that offers fully-funded scholarships without IELTS scores. Therefore, interested students can apply for the CIS schemes, China Council Scholarships, Peking Overseas Students Scholarships, and many more. Meanwhile, available benefits include travel expenses, miscellaneous costs, monthly allowance, free accommodation, etc.
5# Fudan University Scholarships:
Next, we have the very reputable Fudan University, offering fully or partially-funded scholarship programs to BS students of different nationalities. These students can apply for the Shanghai scholarship programs, China Development Bank Scholarships, Belt and Road Scholarships, Fudan Boxue Scholarship, and much more.
However, eligible candidates must not be Chinese nationals and be in a fit mental and physical state. Meanwhile, recommendation letters, study plans, statements of purpose, etc., are mandatory while applying for scholarships. Candidates can submit IELTS, TOEFL, DET, & PTE scores for Fudan University undergrad scholarships.
6# Confucius Institute Scholarship:
The valuable fully-funded Confucius Institute Scholarship is the program launched by the Confucius Institute and Chinese universities for international students. That scholarship aims to promote the Chinese language and culture among the students willing to pursue BS degrees at Chinese institutes. Meanwhile, the scholarship duration for this fully-funded program is four years for Bachelor's degree students.
However, non-Chinese applicants with a good GPA and stable health, below age 20, are eligible for the Undergrad CIS programs. Meanwhile, IELTS / TOEFL scores are the acceptance tests to prove language proficiency.
Benefits of the CIS schemes for undergraduate degrees include full tuition fee waivers, accommodation, living allowances of RMB2,500/ month, and medical insurance.
7# ASEAN-China Young Leaders Scholarship (ACYLS):
Students from ASEAN member states, like Thailand, Brunei, Cambodia, Indonesia, Malaysia, Myanmar, etc., are eligible for the ACYLS program and can apply for this amazing opportunity to finance their Master's degree while studying in China. Students applying for the ACYLS scheme must be under 45 in sound health (mentally or physically) and able to submit IELTS or TOEFL scores with one-year work experience.
The ASEAN scholarship is a joint scheme of the ASEAN Member States and the People's Republic of China, granting multiple exciting academic benefits, like school and tuition fee coverage, health insurance, free housing service, international airfare, etc.
8# MOFCOM Scholarships:
These funded MOFCOM scholarships are the effort of the China Scholarship Council with the Ministry of China's People's Republic, helping international students coming to China for obtaining fully financed Master's degrees. Selected scholars will be entitled to enjoy tuition fees, survey fees, research costs, monthly stipends of RMB 36000, medical and English-taught program allowances, etc. However, considering the eligibility criteria, the applicants must be of 45 years of age with a BS degree and able to submit Chinese or English language proficiency proof to apply for the MOFCOM scholarships.
Meanwhile, applicants can submit IELTS or alternative test scores to meet the requirements.
9# Shanghai Municipal Government Scholarships:
International students with good academic results, a high GPA, and work experience are eligible to apply for the Shanghai Municipal scholarships offered by the Shanghai government in partnership with reputable Chinese universities. These scholarships are open for the Master's degree for non-Chinese international candidates below age 35 who hold a BS degree with a level 4 in the HSK test. It is mandatory that while applying for the Shanghai Municipal Government Scheme, candidates must not be enjoying any other funded program. However, the funding package belonging to the Shanghai scholarships includes air travel tickets, health premiums, accommodation at university dorms, and living stipends.
Candidates are bound to submit the language scores of their chosen universities to become eligible for the scholarship.