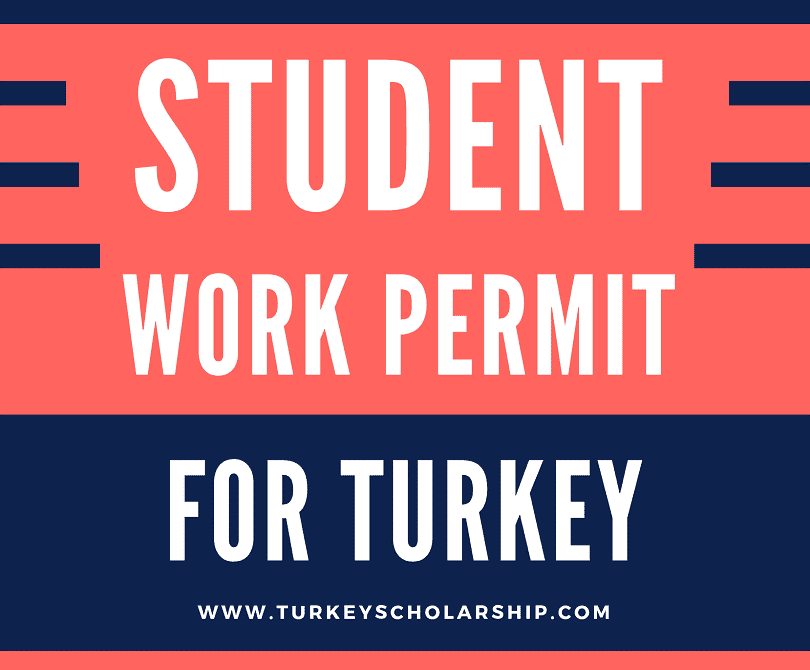 Working in Turkey on Turkish Student VISA is illegal unless you obtain a Work Permit for Student issued by the Government of Turkey. Unlike in other countries, it is very hard to get a part-time job as a foreign student in Turkey. This is because of the language barrier where most employers seek Turkish-speaking employees. The available jobs have very low pay in relation to countries such as the USA, Canada, and other European countries. Besides all these barriers, there are opportunities that exist for foreign students. To find them, one needs to carry out extensive research.
Turkish Work Permit for Students – Work in Turkey as Student
There is a new law on International labor that has recently been implemented to protect the foreign postgraduate students in Turkey to apply for the Student Work Permit. This is a law that states that these foreign postgraduate students, who are pursuing formal courses from recognized universities, have the right to seek employment and get work permits in Turkey. This law, however, does not apply to students who are taking a degree or any other undergraduate programs. Turkish Student Work permits are not allowed to the students of short programs or undergrad degree programs.
When foreign postgraduate students get a Turkey Work Permit, they can continue to enjoy their residence permit. They can also continue to enjoy the rights that come with their valid residence permit in Turkey. The ministry of foreign affairs of Turkey is responsible for setting the standard principles as well as the procedures that will govern the employment of these foreign students. They will make a decision based on these principles as well as the guidelines that are set by the Immigration Policies Committee.
If you are a foreigner and recently completed your studies from a recognized Turkish university, then you can apply for a work permit. This should be done within one year after your graduation. Once you make an application, it will go to the International Labor Policy Advisory Board who will review it and make a decision based on underlying principles.
It is important to note that if you are a Bachelors degree graduate who was studying under a state scholarship in Turkey, you do not qualify for a work permit. This is regardless of the fact that you have graduated or you currently have a short-term residence permit.
Student Work Permit of Turkey Challenges
One of the major challenges faced by international students in Turkey is the lack of permits and legal authorization to seek employment in Turkish public and private sector organizations. It is for this reason that Turkish Universities have strived to alleviate this challenge. They have done this by giving international students the chance to work as researchers in Turkish universities.
There is a lot of presence of foreign staff members in the public and private-owned universities in Turkey. Some of the most notable public universities in Turkey that acknowledge the presence of international students include the University of Bogazici (Istanbul) as well as the Middle East Technical University (Ankara). Some of the most notable private universities that acknowledge the presence of international students are the Koc, Bilgi, and Sabanci, which are located in Istanbul. In Ankara, we also have the University of Bilkent.
There are many challenges faced by foreign students in Turkey with the major challenge being the language barrier. It is for this reason that it becomes difficult for these students to get part-time and temporary jobs. However, there are universities in Turkey that have departments offering English-taught programs. For the private Turkish Universities in the area to compete with these public universities, they have also started using English as the official teaching language. Besides the English language, other research facilities in Turkey use other languages such as German and French.
There are also old schools and colleges in Turkey that give postgraduate students the chance to have the opportunity of benefiting from Fully Funded Turkish Scholarships. These full scholarship benefits, however, require some of these foreign students to help faculty members in tasks such as teaching, research, statistical analysis, and more. For such scholarships, other friendlier languages are used by the students as well as to teach.
Jobs for Students in Turkey
When carrying out research on job opportunities, the internet is the first place to begin your search. One should also ensure that one prepare comprehensive and well-detailed curriculum vitae that will give the potential employer a vivid image of you and a personal statement. Besides communicating in the Turkish language, there are other companies in Turkey that use other languages such as German, Italian, Arabic, Russian, French, Spanish, and many more. After a few application submissions, you can be assured of getting a response from them.
If you are looking for a well-paying and professional job in Turkey, then you should look for work in consulates, embassies, and NGOs. Getting a job in these areas is however difficult due to the high competition from applicants.
One job opportunity that is available in Turkey is to look for a place where you can teach other students your native language. One language that most Turkish students seek to learn is English. As an English-speaking foreign student, you can be guaranteed of getting such jobs every now and then.  However, other well-paying jobs are also available for people with a degree certificate or another course. Some of these courses include TEFL, TESOL, CELTA, and PGSE. Studying for such relevant courses will assure you of a well-paying temporary job.
Another opportunity that exists is some Turkish companies seek to hire a foreign individual in their organization. Some of the companies that seek to recruit foreigners include the Turkish Daily News, Zaman, and The New Anatolian as well as other magazines, newspapers, and publications. These have the need to have foreigners translate these publications into foreign languages. Job opportunities that are available in these companies include editors, copy editors, journalists and proofreaders.
For people who are looking for opportunities for casual work, such vacancies are posted on notice boards around the university. These opportunities are also available in magazines in the ad section. Other casual jobs are in the tourism sector as Turkey is a country that boasts of high tourism, especially in summer. The major challenge with tourism jobs is that they involve long working hours throughout the week. This is until the end of the summer season. Female students have the chance to apply for and get nanny jobs in well-off families that live in nearby cities.