Documents
Personal Statement for Turkey Scholarship
Writing a Personal Statement for Turkey Scholarship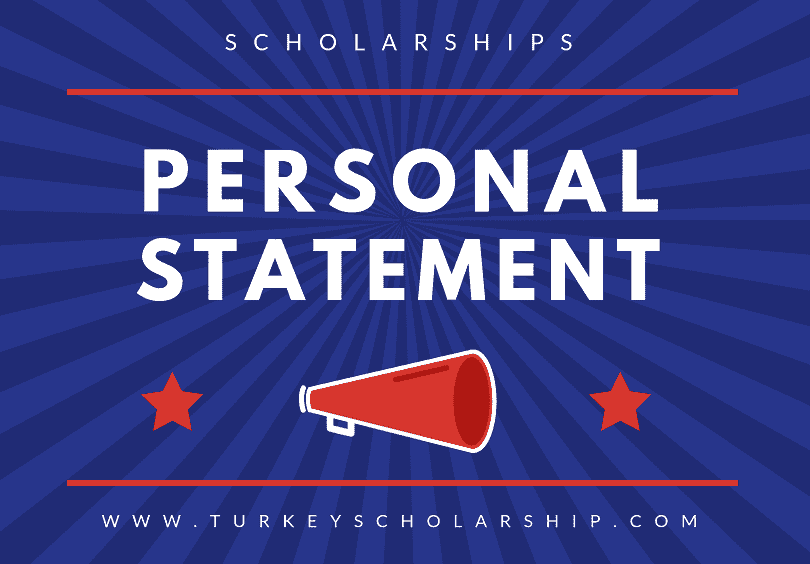 If you are wondering how to write a personal statement for Turkey Scholarship application then you landed on the right place where you will get complete guidance on this topic.
Many other students look forward to the same opportunity; Every applicant has the most competitive academic fellowships with a high GPA and recommendations. You should show your strengths that help you stand out from other applicants. Reveal your experiences and explain what you have learned from them and how they have helped develop your interest in the program. It is always best to be unique and tailor your reasons and motivations so that you will appear out yourself among the thousands of other applicants.
There is no exact recipe or formula to compose a perfect personal statement. If you are applying for different awards, you should write a personal statement for each course, because every organization is looking for a different kind of skill set in their applicants. You should look for their requirements and write your personal statement accordingly. Support your interest in the program with evidence that you meet the selection criteria.
Here are some guidelines that you can follow to write an excellent personal statement.
There is a difference between the personal statement for the college admissions and Personal statements for scholarships. Fellowships selection committees want to have a full grip on your academic abilities and your achievement. Your motivation statement is your chance to explain your motivation in the field you chose. Start the opening sentence of your personal statement in a way that attracts attention and arouses the interest of the selection committee. Talking about unusual activities or anything else can help highlight your personality and positive energy in achieving your dreams and helping your community. Connect your interest in specialization with your personal hobbies.
Choose your words wisely. 
When starting to write a personal statement for Turkey Scholarship program, think about skillset for your chosen course, and list it. Record your experiences, plans, and plans. The information will help you explain your suitability when you start writing your personal statement. Don't focus on the events and problems you faced; instead, focus on your expertise and how you solved them. Focus on our academic achievements, past experiences and qualities; Organize between paragraphs about the most relevant qualifications for the program, and avoid the irrelevant.
Do not leave writing your personal statement until the last minute. You should compose different draft versions of a personal statement and ask friends and family about the possibility of reviewing your personal statement. Learn about your course you are applying for, learn about its requirements, learn about its career opportunities. The more information you know about it, the better you will write about it. Ask your friend about the strengths that characterized your personality when you worked together in a project. Ask your teacher about the challenges you could achieve in your academic study. Improve your personal statement every day.
Things to avoid while writing a personal statement.
You should not lie or exaggerate the information provided about your personal life or your academic achievements and practical history. Staff can review your requests for information submitted as counterfeit information is easily revealed when authorized.
Submit your letter of the personal statement in a professional format, style, and grammar. Check for spelling errors and avoid repetition.
The personal statement is your representative, and you should give your best.