Study in Turkey
53 Turkish Universities with Low Tuition Fee and Scholarships
List of Turkish Universities with Scholarships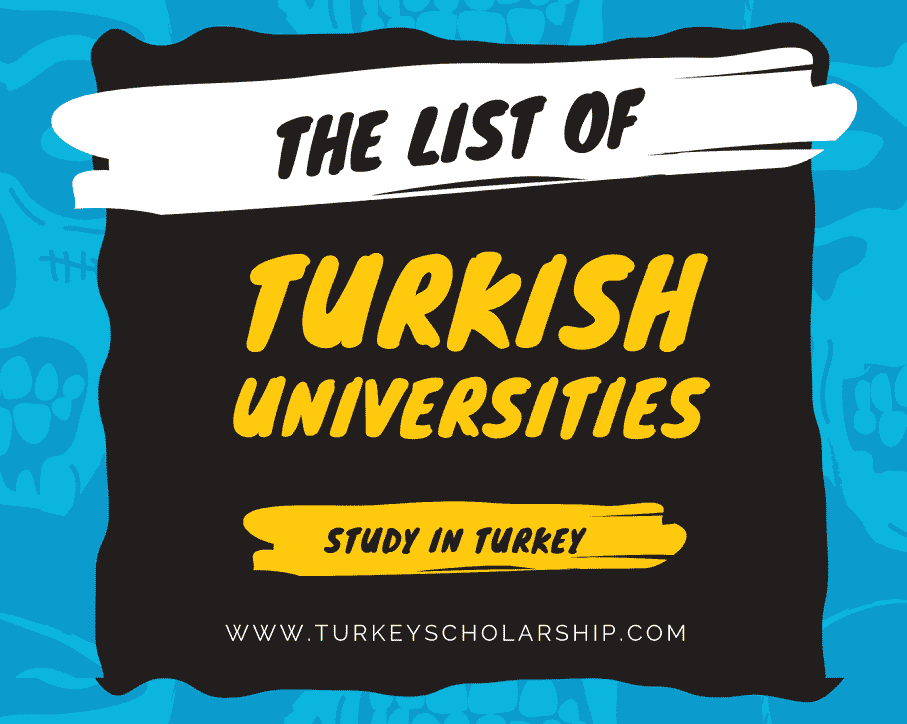 Turkey has been among the Top Study Destinations around the world for a very long time due to its advanced and Highly Ranked International Standard Universities. Turkey is also among the Scholarship Awarding nations to the international students to give them a chance to further their education in Turkish Universities for free.
The Universities in Turkey offers Low-cost tuition fee to fully funded Turkey Government Scholarships to international students. The cost of living for a student studying in Turkey is also not high compared to the living standards that Turkey has to offer and this is why Turkey became the top study destination around the world in such a minor time duration.
Turkish Universities offer quality education and are research-oriented. So, it is going to be a promising choice for international students to consider Turkish Universities for their higher studies also because of low tuition fees.
Here is the list of 53 Top Turkish Universities with Low Tuition Fee and Scholarships:
Mimar Sinan University is a higher education institute for Fine Arts (Turkish: Mimar Sinan Güzel Sanatlar Üniversitesi). Findikli is the host city of the institute located in Istanbul's neighborhood.
Mugla Sitki Kocman University founded in 1992 that offer the Faculty of Arts & Sciences and Humanities, the Faculty of Economics and Administrative Sciences, the Faculty of Technical Education and the Faculty of Fisheries. The institute supports research and taught courses in the social, natural, and pedagogical sciences, as well as the arts and humanities along with the vocational training.
Mustafa Kemal University is a public institution established in 1992. Antakya is the city (with 50K-249K population) hosting the institute.
#4 Near East University (Cyprus)
The Near East University located in Nicosia (North Cyprus's capital) founded in 1988. Highly qualified staff and a vast range of undergraduate and postgraduate courses are the institutes' specialties. The alumni of the university include people from over 100 countries. More than 16 faculties and 220 departments, 4 graduate schools, 4 high schools, 28 research schools, and several international institutes.
Nigde university is hosted by Anatolia. the public institute is teaching 14000 students with an 1100 staff. The university is an affordable place 6km available from Nigde.
Istanbul is the place hosting the home of 8000 students known at Okan University. They are teaching 52 undergraduate programs, 27 graduate programs, and 5 Ph.D. programs in 5 different fields of applied and health sciences.
#7 Anasayfa Dicle (Tirgris) University
Dicle University offers higher education in the fields of Architecture, Art and design, Biosciences, Business, Chemical engineering, Chemistry, Civil engineering, History, Economics, Finance and accounting, Language, Medicine, Law, Physics and many more.
Dogus University is part of a high-quality education chain that starts from Kindergarten followed by primary and high schools and end at university. The institute started its quality services in 1974.
Dokuz Eylul University is a flourishing institute with 14 faculties, 10 institutes and graduate schools, 3 schools, state conservatory, 7 vocational schools, 54 research centers. DEU is also part of the Technology Development Zone (DEPARK).
Kütahya Dumlupınar University is a newly established institute founded on July 3, 1992. It is an affordable place for international students.
#11 Eastern Mediterranean University (Cyprus)
International students must pay the first-semester fee for their visa to study at Eastern Mediterranean University (EMU). The fee can be paid in installments by the already registered students.
Erciyes University is hosted by Kayseri, Turkey. The institute hosted 28,474 graduate and postgraduate students till 2006 International students can apply for this affordable Turkish institute.
#13 European University of Lefke (Cyprus)
The European University of Lefke was founded in 1990 with a philosophy to make science and education universal. All the programs offered in the institute are recognized by the world's higher educations.
#14 Fatih University Tuition Fees
Fatih University is founded in 1997 by the Turkish Association of Health and Medical Treatment. Arts, Science, Economy, engineering, medicine, and nursing schools are part of the institute.
Anadolu University is a well-known Turkish institute of Aeronautics and Astronautics. They offer undergraduate studies in Avionics, Air Traffic Control, Airframe, and Powerplant Maintenance, Aviation Management and Flight Training. They are the quality professional provides for the air transportation of the country.
Ankara University is hosted by Turkish capital. The first institute of the Turkish republic offers 40 vocational courses, 120 undergraduate courses, and 110 graduate courses.
Mustafa Kamal lead the foundation of the eastern Anatolia's university when he talked about it at Grand National Assembly inauguration speech on 1st November 1937. He instructed about the institutes processing at that time.
Atilim University is in Ankara as a quality education provider in the fields of science and technology. The determination of the institute for research make it nation's star.
Bahçeşehir University founded in 1998 after the permission of the Turkish National assembly. It is a private institute.
The institute offer courses that lead to higher education in the selected field of study. Courses to pursue a bachelor's degree can be enrolled here with a confidence of quality.
Baskent university required the submission of fee in two installments for fall and spring semesters. For the new students, the fall semester fee installment will be made during registration.  It is also one of the affordable universities of Turkey for International Students.
Adem Çelik – Beykent Education Foundation laid the foundations of Beykent university as a non-profit institute. The university started in 1997 and own three campuses now.  Four higher education institute, 2 institutes, and 3 research schools are offering courses in 10 faculties.
Manisa Celal Bayar University is a public institution founded in 1959 in Manisa. Primarily it was a sports and teachers' college with the main campus in Muradiye.
#24 Cumhuriyet (Republik) University
Cumhuriyet University was founded in 1974 and is the largest institute of the university as it is established in 11000 acres in Sivas. It is founded on the 50th anniversary of the establishment of the Republic.
#25 Cyprus International University
Cyprus International University was founded in 1997 in North Nicosia. The medium of instruction is English and offer admissions to students from around the globe via the online application system.
#26 Karadeniz Technical University
Karadeniz Technical University was founded in 1955 as a public research institute in Trabzon. The fourth oldest institute is an affordable place for international students to study in Turkey.
Kirikkale University founded in 1992 and offer courses in Arts and Sciences, Economics and Administrative Sciences, Engineering and Veterinary, Social Sciences, Science and Health Sciences Centers. It is also among the affordable Turkish institutes for international students.
Koç University was founded in 1993 in Istanbul. The university started in Istinye and in 2000 shifted to current Rumeli Feneri campus in Sarıyer. It holds the first rank in Turkish institutes according to Times Higher Education World University Rankings 2016.
Kocaeli University was founded in 1976 in Kocaeli state. It offers courses in Engineering and Architecture, electrical and mechanical engineering, basic sciences, and modern languages.
Maltepe University was founded in 1997 and is in Maltepe, a district of Istanbul. It is a private institute established by "Istanbul Marmara Education Foundation".  They teach courses from elementary level to university. The first graduate passed in 2001.
#31 Marmara University Istanbul
Marmara University was founded in 1883 from a business school as its ancestor. It was inaugurated as a university in 18982. The top institute of Turkey taught 70,000 students with 2800 faculty. It has vast faculties and schools.
The public institute was founded in 1992. Mersin University hosted 25,000 students with 1,405 academic personnel and several foreign professionals as guest academic staff. it is an affordable institute with excellent research and sports facilities.
#33 Middle East Technical University
Middle East Technical University (METU), is a state-funded university near Ankara. They offer engineering and natural science courses with an emphasis on research. The vast courses and quality science education make it a well-reputed institute of Turkey and Europe.
#34 Firat (Euphrates) University
Fırat University founded in 1975 in Elazığ, Turkey. Euphrates River is the inspiration behind the university's name. it is among the cheap Turkish universities for international students.
Turgut High School is the ancestor of the Galatasaray University. The university was founded in 1992 in Istanbul as a result of an agreement of President François Mitterrand of France and President Turgut Özal of Turkey.
Gazi University was founded by Mustafa Kemal Atatürk in 1926. Primarily it was Gazi Teacher Training Institute.
Gaziantep University is an institute of 22 departments of 10 faculties. The focus of the university is on science and technology research. The hosted city Gaziantep is southeastern Turkey's biggest industrial zone.
Gaziosmanpasa Üniversitesi founded in 1992. The public institutions of higher education are in Tokat a city of 50,000-249,999 people.
#39 Gebze Institute of Technology
Gebze Technical University was previously known as Gebze Institute of Technology. It is among the two technology institutes of the country. The second one is İzmir Institute of Technology.
Girne American University is an institute of Kyrenia, Cyprus. Mr. Serhat Akpinar laid the foundations of it in 1985 in the American style education system.
Hacettepe University is the number one university of Turkey located in Ankara. It has two campuses and a medical school.
Halic University established in 1998 as a private institute. The university is in the city of more than 5,000,000 inhabitants, Istanbul.
Sanliurfa university founded on joining of higher education schools. Sanliurfa Vocational School founded in 1976 that was joined by the Agriculture department in 1978 and Civil Engineering institute in 1984. The Faculty of Theology joined in 1988.
Inonu University founded in 1975 in Malatya on the order of  Turkish Parliament. Malatya is the hometown of the 2nd president of Turkey, Ismet Inonu. Eastern Turkey's biggest university hosted the graduation of 70,000 students. It is among the affordable institutes for international students.
Işık University is a private university located in Istanbul, Turkey. The university is a part of the Feyziye Mektepleri Vakfi Isik Okulları was established in 1885 by the Feyz-i Sıbyan School in Salonica.
Istanbul Bilgi University is hosted by a US-based Laureate Education, a private college corporation.  Bilgi stands for knowledge in Turkish. The Bilgi is an educational and cultural organization founded in 1994. It is an affordable university for international students.
#47 Istanbul Kultur University
İstanbul Kültür University has three campuses in Istanbul. The names of the campuses are the Ataköy and İncirli campus in Bakırköy and the Şirinevler campus in Bahçelievler.
#48 Istanbul Technical University
Istanbul Technical University (İTÜ) is offering graduate and postgraduate courses with an emphasis on research. They are behind the highly efficient MSc and Ph. D of the country in the fields of science and technology.
The bridge between East and West, the city of Istanbul host Istanbul university to provide leading professionals in different fields. The affordability is also a plus point of the institute.
#50 Izmir Institute of Technology
The city of Izmir is hosting the İzmir Institute of Technology since 1992. Natural sciences and engineering are basic faculties of the most selective university of Turkey. The engineering courses (civil, chemical, computer, electrical, food, and mechanical), the science courses (chemistry, mathematics, molecular biology and genetics, physics), and the architect courses(architectural restoration, city, and regional planning and industrial design) are available in English.
KHAS is well-known for its scholarships for international students. For undergraduates a 25%-50% and for masters and Ph.D. students a 25%-100% reduction in fee is available. There is no need for separate scholarship application as every admission application is assessed for a scholarship based on the academic qualification of the applicant. International exam score and graduation grades are the basis of the evaluation.
Bilkent University is an international institute with English as a medium of instructions. That's why international students are an integral part of university life.
The institute's executive council issue the tuition fee and other charges each academic year. The charges are revised by the council of ministers.