Study in Turkey
Cheapest Turkish Universities With Student's Living Cost in Turkey
How is it like to Study in Turkey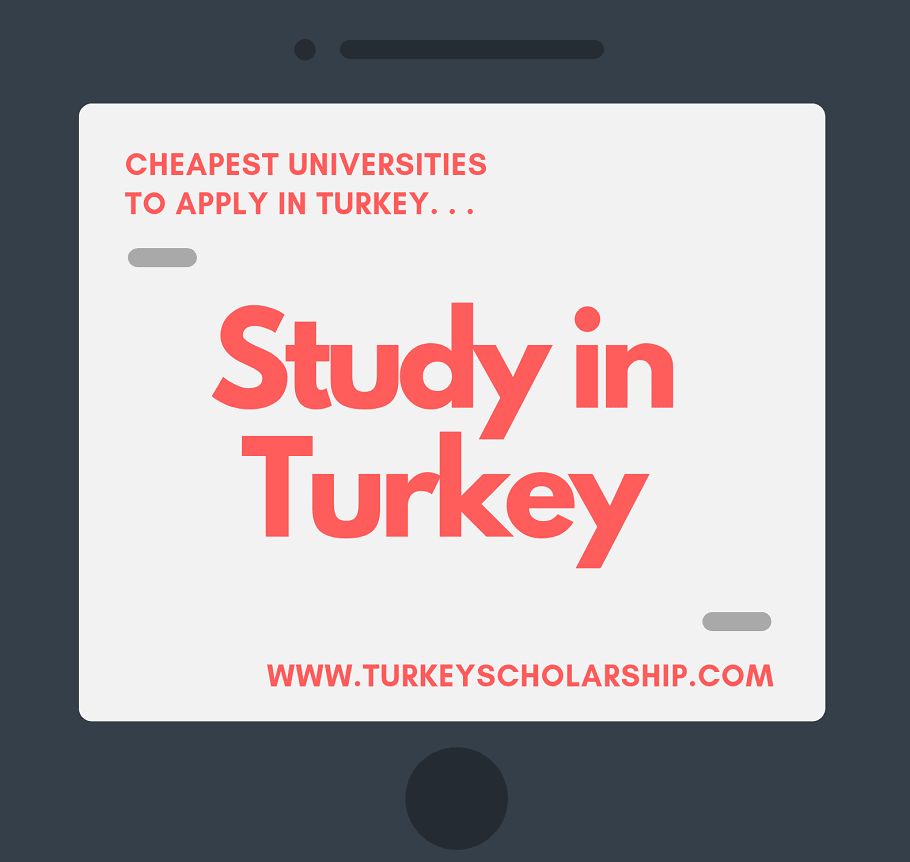 Turkey is a country sharing European and Asian culture with Greek, Persian, Roman, Byzantine, and Ottoman ancestry. Turkey is also an affordable place for international students with a 600$-1500$ tuition fee per annum. There is a list of low tuition fee universities of the country with 300$-400$ living costs per month.
Rankings of Turkish Universities:
International university ranking proves the quality and standard of Turkey's higher education system. There are 3 Turkish universities placed in the World Top 10 and 7 in top 100 universities of the world according to "The Times Higher Education BRICS & Emerging Economies" Recent Rankings. English is also a medium of learning for the fields of medicine, engineering, humanities, business, and finance in Turkish universities.
Cheapest University in Turkey:
The private Turkish universities are a little more expensive than the government institutes. The fee of private universities is 20,000$ per year and of public universities is 600$-1500$ per year for English taught and $240-750$ for Turkish taught courses.
Medical Universities in Turkey:
For the tight merit medical countries' students studying medical in Turkey is a good alternative. Turkish medical universities are hoping for the students who gave up their dream of being a doctor. After checking the list of low tuition fee universities don't forget to check the previous article "Low Tuition Universities in Turkey for international students".
Cost of living for a Student in Turkey in 2022
The living costs depend on a person's lifestyle and an estimated minimum range is $300 to $400 per month for a student. The student studying in a Turkish University may spend between US$300 to US$500 maximum, on food, clothing, utility bills, books and administrative fee, entertainment, accommodation, and transportation. The books can cost 100$-150$ per semester.
Tuition fees depend on the course selected in the Turkish University one wishes to apply to. If the student wins a fully funded Turkey Government Scholarship then the tuition fee will be covered by the Turkey Government along with a monthly stipend, accommodation, and other expenses.
What are the admission requirements to apply to a Turkish University?
The documents required to apply for an undergraduate course are enlisted below:
Admission Application form of Turkish University
Turkey Scholarship online application (Only if applying for a Turkey Burslari Scholarship)
English and Turkish copies of High School Diploma
Original transcript with Turkish translation
Language Proficiency Score (look for the university with minimum language requirements. You can also take the university's proficiency test after reaching there. English Preparatory Program of the universities is for the ones who failed the language proficiency test. Admission offices of the institutes can provide the language program's information)
International University Entry Exam clearance proof (Admission office can help to know about the acceptable entry test exams that are good for the ones who failed the international entry test)
The following documents are required for the graduate admission application to Turkish University:
Application form of admission into a graduate program of Turkish University
Bachelor's diploma and its Turkish translation
Original transcript and its Turkish translation
Resume with a cover letter attached specifically for Turkey Scholarship or admission
Statement of Purpose
Required number of recommendation letters
Language Test Score (there are two options to provide language test score: clear before arrival or after arrival)
Graduate Program's entrance exam result (Visit admission office to know acceptable exam)
Application charges
Turkey Student Visa Application Process?
Log-in to www.evisa.gov.tr for visa application and provide required information after application acceptance, make a payment, and download e-visa. E-visa is valid only for tourism and business. For work and study, a regular visa from the embassy is required.
How Do I get Visa to Study in Turkey?
The prerequisite of student registration in Turkey is getting a student visa before reaching there. The students without a visa cannot be registered in Turkey and cannot get a residential permit.
The student visa can be obtained from the Turkish embassy of your country as it cannot be issued from within Turkey.  Get the visa application form from the consulate and attach a "letter of Acceptance" from the university after filling out the form. After submitting the application form 8 weeks are required for visa processing. The validity of the student visa depends on the duration of the study program and is mentioned on the visa stamped on your passport.
Submit the Turkey Student VISA application form to the institute before the last date with the following documents attached:
The last degree passed
Language proficiency score
Required admission fee
After submitting your application wait for the approval letter from the institute.