Study in Turkey
Reasons to Study in Turkey – Turkey University Scholarships
Benefits of Studying in Turkey – 10 Points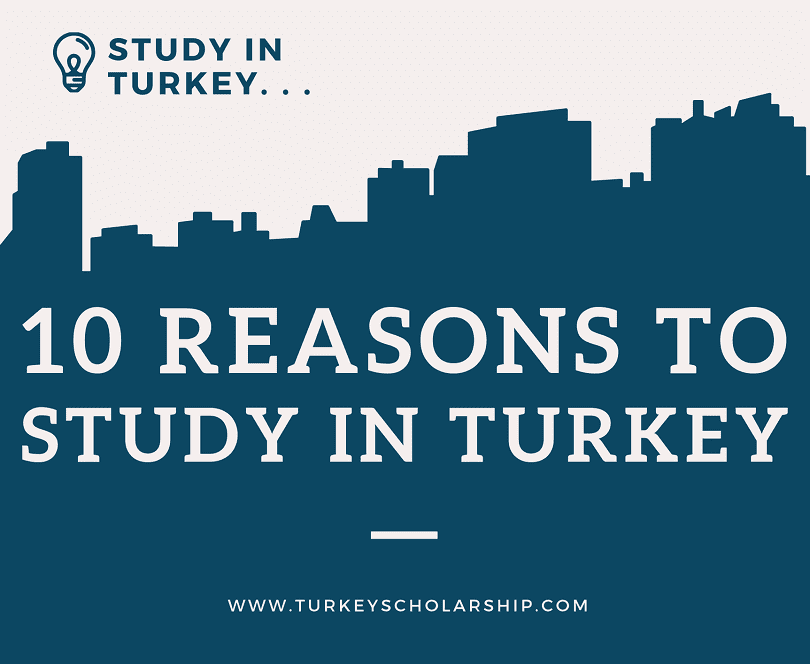 Conventionally, Turkey has been the preferred destination for students looking to study abroad, given the numerous prominent universities and the wide variety of courses available to them in all the Turkish Universities.
Turkey is one of the countries that offer fully-funded scholarships without IELTS to international students. There is no application fees to apply for the Turkish Government Scholarships.
10 Reasons to Study in Turkey in 2022
A few major benefits of studying in Turkey are given below:
A Bridge between the East and the West
The country Turkey straddles Europe and Asia and thus acts as an actual bridge between both regions. Its closeness to the African continent too has meant that it has become home to a blend of different cultures, with people from all cultural backgrounds, faiths, and races visiting Turkey. In fact, around thirty thousand foreign students arrive in Turkey every year from Africa, the US, Asia, and Europe in pursuit of academic courses.
Its Warmth and Hospitality
The people of Turkey have a warm and hospitable nature and are always welcoming toward foreign visitors. They tend to use conversations with foreigners as a means to practice their English skills. You can expect to be invited over for breakfast or just a cup of cay (tea) by your Turkish neighbors, and also be challenged in a game of tavla (backgammon), which is a favorite pass-time with the locals.
It's Natural Bounty
Turkey boasts of a coastline that is more than 5000 miles long, with the Black Sea towards its north, the Mediterranean Sea towards its south, the Aegean Sea towards its west, and the small island, the Sea of Marmara that lies just below Istanbul and also to the west. Towards the northeast of Turkey lie the Kaçkar mountains that present hikers with deep valleys, a variety of wildlife, and beautiful views.
Modern cities
Istanbul and Ankara are two major cities of Turkey and are also tourist hot spots. Istanbul, having a population of 12 million, spans two continents, Europe and Asia. Trendy and happening Istanbul is arguably one of the biggest cities in the world and straddles two continents, Europe and Asia. Istanbul is bounded by water and lies across the Bosphorus strait. It is a cultural center and has many beautiful tourist attractions such as the Hagia Sophia and the Blue Mosque. Ankara lies in the central part of Turkey on a high rocky hill and is Turkey's cosmopolitan capital city steeped in history. Many historical ruins and archaeological sites exist in Ankara. Antalya and Izmit are two other well-known cities in Turkey.
Historical significance
One can find numerous ancient ruins all over the region that are evidence of the many civilizations that either developed or settled in Turkey, whether it was Greek, Ottoman, Roman, or Byzantine civilization. Turkey is like one big museum in this regard. The Neolithic settlement at Çatalhöyük is regarded as one of the few excellently maintained ruins in the world. The remains of the famous ancient city of Troy also lie in Turkey. Mount Nemrut is home to the effigies of Persian and Greek Gods that have been denoted a wonder of the world by UNESCO.
The delectable cuisine
The Turkish cuisine is a delectable blend of Caucasian, Balkan, Middle Eastern, Mediterranean, and Central Asian flavors. You will find an assortment of delicious kebabs and pastries at street corners, while toward the coast, a mouth-watering array of fish and other seafood, besides grilled corn, will be laid before you. Soon you'll find yourself lost in a sea of flavors sipping on pots of the cay, having yogurt with all your meals and munching on olives and cheese in between.
Pleasant Climes
Turkey enjoys a pleasant and moderate climate to a large extent. Izmir and Istanbul experience warm and dry summers, while winters there are nippy and wet. On the contrary, although Ankara has similar weather during summer, it snows during the winter and is cold.
World-class education standards
Turkey has a fast-growing economy, which is reflected in its competitiveness in the global education market. Degrees obtained from universities in Turkey have Worldwide Universities recognition, while English is increasingly being used as the language of instruction for the various academic programs, particularly for courses in engineering, business, and international studies. A number of Turkish universities offer low-cost degree programs with progressive campuses and high-tech amenities.
Low-cost quality education
Turkey offers students quality education at costs that are lower than most European and American countries. Here, the tuition fees and cost of living are low. Turkey Scholarships that cover tuition fees as well as accommodation and living costs, besides student insurance, can be availed by students. Turkish Universities with low tuition fee are also in the spotlight among international students.
Extensive use of English
English is extensively used in communications in Turkey, particularly in larger cities and tourist destinations. Moreover, more and more academic courses are being conducted in the English medium of instruction. Many institutions also offer students the opportunity to study the English language.