Turkey Scholarships
Turkey Scholarships Without IELTS in 2023: Online Application Submission
TURKISH SCHOLARSHIPS WITHOUT IELTS 2023-24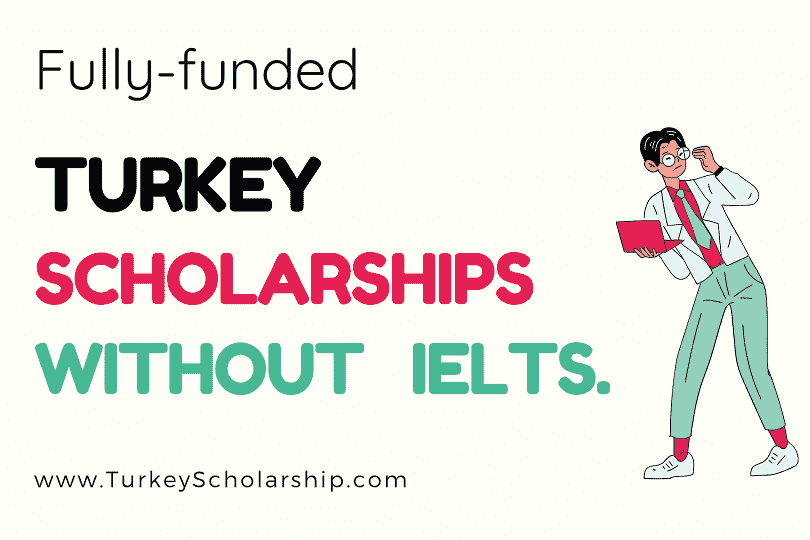 Countless fully-funded Turkey Scholarships Without IELTS for the batch of 2023-2024 are now open for online admissions. These Turkish Scholarships are available for all disciplines, and degree levels.
Turkey is always famous for its beautiful culture, heritage sites, and quality education. According to the reports, it is the second most preferable country to travel to for high education. Also, the prestigious universities of Turkey are doing an incredible job along with the Turkish government by offering various scholarships for international and local students, especially with IELTS exemption.
One can apply to these Turkish NO IELTS scholarships for Bachelor, Master, and Ph.D. degrees by submitting a language proficiency certificate or other equivalents.
How Can We Get Admission to Turkish Universities Without IELTS?
As mentioned above, the need for IELTS/TOEFL test scores is not obligatory anymore in Turkish Universities. If the candidate has cleared his courses in the English language, it is enough. On the other side, language proficiency certificates are also acceptable instead of IELTS.
In this article, we will discuss the Turkish scholarship programs without IELTS. Stick to this article to know more about it.
List of Turkish Scholarships Without IELTS in 2023:
Dozens of universities in Turkey are giving fully-funded or either partially-funded scholarships to their local and overseas students. All such scholarships are either offered by the Turkish government, university, or both.
#1 Kadir Has University Scholarships Without IELTS:
This reputable university of Istanbul, Turkey, has announced free scholarships for the BS, MS, and Doctoral degrees. Candidates do not need to submit the TOEFL/ IELTS test results to apply for these scholarships. The such institution has five campuses with a friendly environment and highly advanced learning methods.
Meanwhile, the acceptance rate of Kadir University is 55%. Some of the Turkish scholarships offered by this university are;
Turkiye Burslari scholarship program.
Kadi Has University Graduate and Undergraduate scholarships.
#2 Bilkent University Scholarships Without IELTS:
Another university providing IELTS-exempted scholarships is Bilkent University. This university is famous for its name as the "city of science." Also, it is the first non-profit university in Turkey to give scholarships to locals and overseas without the mandatory requirement of IELTS. A few of the Turkish scholarships offered by this prestigious university include;
Graduate scholarships.
State Scholarships.
Undergraduate scholarships.
School of Management Scholarships, etc.
Bilkent University scholarships are available for the Ph.D., Master, and Bachelor's degree programs. So, check their official website to apply before the deadline.
#3 KOC University Scholarships Without IELTS:
That non-profit KOC University is located in Istanbul, offering 22 undergraduate programs, 16 Ph.D. programs, 31 graduate programs, and some exchange program scholarships.
Currently, 5,500 overseas students are studying at KOC, and the acceptance rate of KOC University is 10%.
Students here can apply for non-IELTS fully funded scholarships for Masters's and Ph.D. For instance;
KOC University Graduate scholarship with thesis and Ph.D.
Country-Specific Turkish Scholarships.
KOC University Undergraduate scholarship.
#4 Sabanci University Scholarships Without IELTS:
Sabanci is the top-most private university in Istanbul, with an acceptance rate of 32%. Getting admission here is not an easy task. Meanwhile, to apply for admissions and scholarships, there is no IELTS requirement to apply for admissions and scholarships at Sabanci University. However, it has various degree programs and generous scholarships for Bachelor's, Master's, and Ph.D.
Undergraduate scholarships for prospective students.
State scholarships.
Graduate scholarships.
The above are the three main scholarships offered by the Sabanci university for international students.
#5 Beykent University Scholarships Without IELTS:
In our list, this is another university of Istanbul, giving scholarships to deserving candidates for BS, MS, & Doctoral degrees.
Beykent University is a private institute with an estimated acceptance rate of 72%. Several scholarships are available here without IELTS;
University placement and special talent scholarship.
Scholarships for Athletes.
Scholarships for Academic Standing.
Scholarships for Field Proficiency test.
Art & Culture scholarships.
International Diploma Scholarships.
#6 Istanbul Sabahattin Zaim University Scholarships Without IELTS:
That private Turkish university is a renowned research university in Turkey, offering various scholarships for Undergraduate, Graduate, and postgraduate degrees. The graduates of this university have a tremendous contribution to Science and Literature.
Istanbul Sabahattin Zaim University has a 53% acceptance rate. Meanwhile, it does not ask for an IELTS test score for admission or scholarships. Scholarships offered by the Istanbul Sabahattin Zaim University are;
Istanbul Zaim University Undergraduate Scholarships.
Academic Success Scholarship.
Istanbul Zaim University Graduate Scholarships
Erasmus Mundus scholarship.
#7 Turkey Government Scholarships Without IELTS
The fully-funded Turkiye Burslari Scholarships is also an IELTS-exempted opportunity for international students to study various disciplines for the following degree levels and research-based programs:
Master Degree Scholarships