Scholarship Guide
Turkey Research Scholarship 2023-2024 [Turkiye Research Scholarship]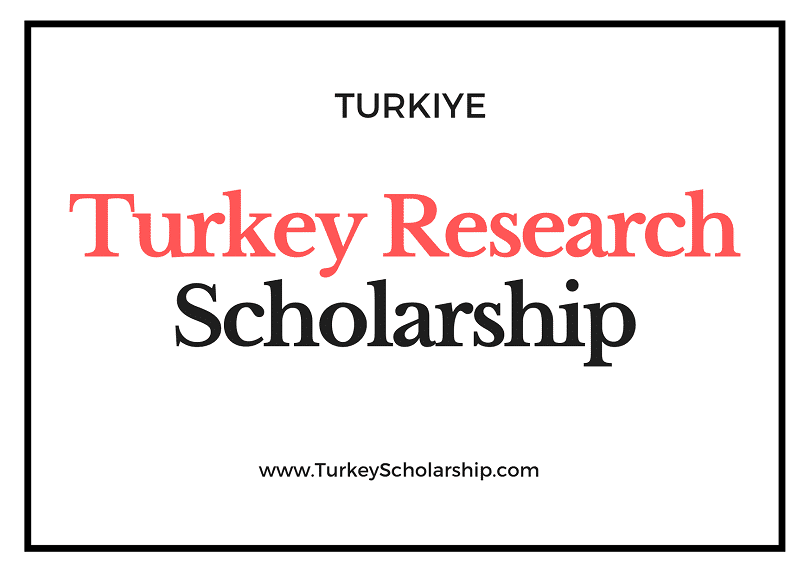 Turkey Research Scholarship for the class of 2023-2024 will be open for applications from international students from June 10, 2023; and the last date to submit an online application for Research Scholarship will be December 30, 2023, as per Turkiye Scholarship Calendar.
Turkish higher educational institutions, as most people are aware, provide a world-class education at the bachelor's, master's, and doctoral levels. The faculties impart experience and knowledge through state-of-the-art teaching methods. The Turkish government is offering scholarships to international students via its 'Turkiye Scholarships program. This way the international students will be able to gain knowledge, learn new perspectives, and earn a degree while staying in Turkey.
The Turkiye Research scholarships 2023 are state-funded, competitive, and generous. The aim is to educate future leaders and strengthen the cultural bonds between Turkey and other countries.
The uniqueness of Turkey Research Scholarship:
This Turkey Research Scholarship program places students in one of the top 50 higher educational institutions in Turkey based on their caliber. It provides financial support along with a year-long language course in Turkish which ensures that the students adapt to the cultural change and feel more and more at home during their stay in Turkey.
The Turkey Research Scholarship also offers a number of seminars, congresses, cultural gatherings, sports activities, internship opportunities, career guidance, and training. These activities make foreign students learn about Turkish culture and extend academic and career support.  
Programs Offered Under Turkey Research Scholarship:
The research scholarship offers several programs in different universities at each level of study. The programs are both full-time and short-term. Moreover, there are tailored programs aimed at students from some specific countries as well. 
#1 Full-Time Programs:
Full-Time undergraduate programs are offered in a number of subject areas like engineering, social sciences, humanities, and health sciences. These programs are mostly four years long and do not support two-year vocational or associate degrees. To see the available programs in each university, interested candidates should check out the guide available on the website. 
Postgraduate full-time programs are offered at masters and Ph.D. levels. It covers almost all the subject areas and fields except for health sciences. The list of universities and programs is available on the website.
#2 Part-Time Programs:
The Research Scholarship Program is for 3 to 12 months and aims to attract foreign researchers to research in their own fields in collaboration with Turkish researchers. This will expand the horizons of Turkish research centers and will strengthen the cultural bonds between the academicians of different countries.  
Turkey Research Scholarship Coverage:
#1 Postgraduate Coverage:
The postgraduate awardees will be covered in almost the same way. The master's student will get a monthly stipend of 1,100 TL whereas the Ph.D. students will get a monthly stipend of 1,600 TL. For a master's, one year for the language course and two years for the master's is covered. Ph.D. students will be covered for four years plus one year for the language course.
#2 Others:
The Research Scholarship Program gives only a monthly stipend to the awardees. They do not cover any accommodation or tuition expenses. The Language and Cultural Program offers a monthly stipend of 2,000 TL along with accommodation, flight tickets, and the Turkish Language Course.
2023 Turkish Research Scholarship Application Criteria:
The academic standing for undergraduates should be at least 70%. For master's and Ph.D., it is 75%. The applicants for pharmacy, medicine, and dentistry fields are required to have an academic standing of at least 90%. 
The master's applicants should age less than 30 years and the Ph.D. candidates should age less than 35 years. Students from all nationalities are welcome to apply. Current or previous Turkish citizens are not eligible to apply. 
How to Apply for the Turkish Research Scholarship in 2023?
Interested applicants can fill out their application form for Turkey Research Scholarship. The applicants should read the instructions carefully first and then fill out the application form. They are advised to upload their documents on the online portal provided and should not send their documents via post or courier. The applicants will be required to pick up 12 universities of their preference. They will be placed in one of them keeping in mind their academic background and achievements. There is no application fee so the applicants should not adhere to any third party that requires them to pay a fee in exchange for making an application.
Most of the programs under this scholarship are taught in the Turkish Language. But, some programs use English as a medium of instruction. Applicants will be required to prove their English Language proficiency through standardized tests like IELTS and TOEFL. These programs also require some other test scores like GRE, GMAT, SAT, etc. The students who have passed high school with international qualifications like SAT or GSCE are at an advantage and they may not be required to submit any other test scores.
All the awardees (including those who have been placed in programs taught in English) are required to attend a one-year-long Turkish Language course. There are no exemptions made except for those who already have a C1 Level Certificate for Turkish Proficiency.
The deadline to apply for Turkiye Research Scholarship will be December 30, 2023.