Study in Turkey
Medical Degrees Offered by Turkish Universities in 2023
MEDICAL DEGREE COURSES OFFERED BY THE TURKISH UNIVERSITIES: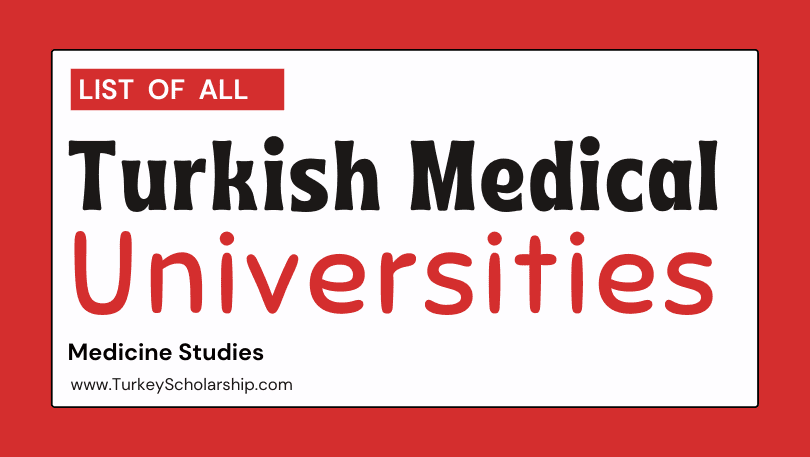 Pursuing a medical and health care degree in Turkey has a lot to offer to undergraduate students. Around thirty-five subfields are there in which a student can complete his bachelor's and achieve his goals.
However, the cost of a medical degree in Turkey is 100 Euros at a public university for a four to six years program. But it might cost a bit extra money in a private university. 
Talking about the disciplines in which a student can obtain a medical degree are too many to count:
Veterinary Medicine.

Health Management.

Pharmacy.

Public Health & Health Sciences.

Dentistry.

Human Medicine.

Nursing.

Nutrition & Dietetics. 

Physiotherapy.

Biomedicine, etc.
Any interested candidate who wants to serve humanity can apply for a medical degree in the above-listed courses as per the choice of interest. 
List of Turkish Medical Degree Programs in 2023:
Are you planning to complete your graduate studies in medicine and the healthcare system? If yes then, here is a list of all the medical courses offered by Turkey. 
A Bachelor's degree in Medicine:
Several Turkish universities are offering a bachelor's degree in medicine and health care. This six-year program at Istanbul Altinbas University will cost approximately 22,046 Euros to an international student. 
However, at Okan University, it is 19401 Euros per annum. The core objective of this bachelor's degree is to remodel medical education and change the norms of medical fields.
A Bachelor's degree in Pharmacy:
Indeed, a degree in Pharmacy gives you the chance to help and serve people by looking after their health and improving their lifestyles. 
On the other hand, pharmacists also work concurrently with other health professionals to keep the nation healthy and disease-free. It is a 5-year program, costing around 13228 Euros at Istanbul Altinbas University and 16,314 Euros at Yeditepe University in Istanbul.
Opt for a degree in Dentistry:
Students can get a degree in dentistry from Okan University at 16755 Euros/ annum. In this degree program, students learn the advanced and newest technologies to become skilled dentists. Meanwhile, Near East University allows students to get their hands on revolutionary methods for dental procedures.
Degree in Molecular Biology and Genetics:
It is time to understand human genetics and biological domains through a degree in molecular biology and genetics. It is a four-year program where you will learn about genetics, biotechnology, and bioengineering. Universities like Koc University in Istanbul and Yeditepe University are offering this program. Tuition fees: Euro 12060/ year for overseas students.
Biomedical Engineering:
A degree in biomedical engineering makes you eligible to solve various healthcare problems by applying engineering techniques and principles. In this degree program, one will also learn to apply quantitative and analytical methods in the healthcare facility. It is a 4-year program with tuition fees of up to 11023 Euros.
Get Gastronomy and Culinary Arts degree:
In this field, students will learn the relationship between gastronomy and food culture. It is a unique kind of 4-year degree program in Turkey.
Cost of Degree: 10141 Euros for overseas applicants.
A degree in Veterinary Medicine:
It is a 5-year degree program with 8600 Euros tuition fees.

One can complete this degree from Near East University, the only faculty of veterinary medicine in Turkey.
Study Health Management at Izmir University of Economics:
This program discusses the needs of health professionals and the approaches to managing the healthcare sector.
Duration: 4 years.
Tuition fees: 8157 Euros annually.
Pursue Nursing Degree:
It is a degree that teaches students about nursing interventions and skills. All the training sessions held during the nursing degree program play a vital role in making worthy future professional nurses.
Duration: 4 years
Obtain a Degree in Rehabilitation & Physiotherapy:
Students enrolled in this program will pass out as professional physiotherapists after the completion of a 4-year degree program.
Nutrition and Dietetics:
It is yet another exciting field where a student can pursue his career and become an experienced professional nutritionist. Nutrition and dietetics is a four-year program with 7496 Euros as tuition fees. One can get this degree from Yeditepe University.