Turkey Work VISA
Turkey Work VISA Types and Application Process 2023 (Explained)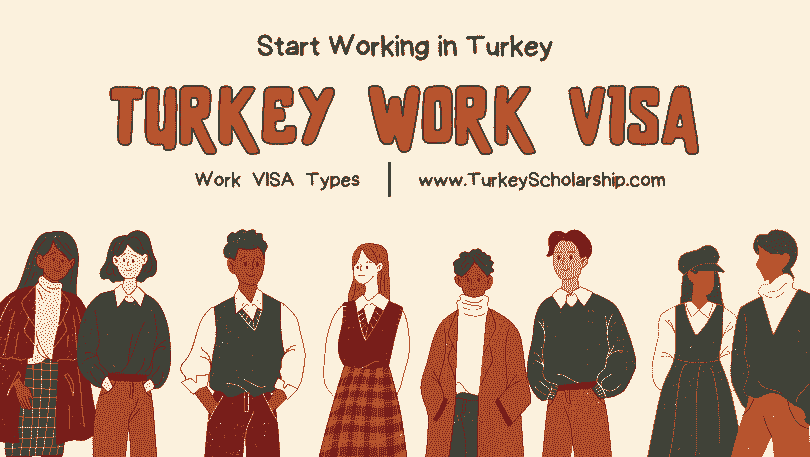 Turkey Work VISA 2023 – Turkey Work Permits are given to visitors who want to enter the country with the intention of securing a job once they get there. Both a Work Permit and a Work Visa are required for foreign nationals who wish to work in Turkey.
To be able to find employment in Turkey, you will need both a Turkey Work Visa and a Work Permit.
Turkiye Work VISA Types in 2023
A valid work permit is required for every foreign national seeking employment in Turkey. If you are an international worker planning to work in Turkey, you must first obtain a work permit from the Turkish government. A work permit can be obtained by applying to the Ministry of Labor with the proper paperwork. Foreigners seeking employment in Turkey can apply for one of four different types of work permits: indefinite, temporary, independent, or Turquoise card.
1# Indefinite Permit
All foreign nationals who have been legally employed in the country for at least eight years under a long-term residence or legal work permit are eligible to apply for an indefinite work permit. Although the applicant may be eligible for an indefinite work visa if they meet all of the requirements, this is not always the case.
2# Temporary Work Permit
A foreign national whose application for a work permit is approved is granted a work permit for a maximum term of one year at the first application, under the condition that the foreign national works in a specific workplace belonging to a legal or natural person or a public institution or organization, or in a specific job in their workplaces in the same line of business, in accordance with the Law on International Labor Force.
3# Independent Permit

Time-limited permission for self-employment will be granted. If certain additional requirements laid out in other regulations are met, a foreign national practicing a professional occupation may be eligible for a work permit that allows them to work independently.
4# Turquoise Permit

The Turquoise Card provides foreign nationals who can provide numerous benefits to Turkey with indefinite work and residency permits, as well as indefinite residence privileges for their family members.
How to Apply for Turkey Work Visa in 2023?
The procedure for obtaining a Turkey Work Visa differs slightly from those of other visa categories due to the extensive documentation and information that is required from both the employee and the company.
When to Apply

Turkey Work Visa applications must be submitted at least one month before departure, and no more than two months, before traveling to Turkey. However, in order to avoid any unanticipated delays, it is recommended to apply for a work visa as soon as you receive the employment offer.
Required Documents for Work Visa for Turkey:

On the day of your interview, you'll need to bring a few essential documents with you:
Completed Application for a Work Visa to Turkey. You can download the application form
Two Photographs Biometric photos should not be more than six months old.
Passport with validity of at least six months
A formal offer of employment or a legally binding agreement.
Proof that you're safe to be about in society, issued by the police
Proof that you have not been involved in any illegal activities or legal disputes in the past year.
Certification of Completion of Studies or Diploma.
Certificate of Graduation or Provisional Diploma.
It covers medical expenses. As long as you're in Turkey
Accommodations made in Turkey as evidence
The means by which one can sustain one's existence
Evidence of a confirmed airline reservation
The documentation required by your embassy may vary depending on your specific situation and nationality.
Documents for Work Permit Application for Turkey:
Within 10 days of your Turkey visa appointment, your employer must submit an online application through the MLSS website. After completing the application, he must submit the necessary documents for the visa by mail or in person.
A Letter Requesting Employment Authorization.
The Application for Employment Abroad is a Form for International Employees.
The Official Journal of the Turkish Registry of Commercial Activities
The most recent annual balance sheet and income statement.
Authorization to act in another's place that has been notarized.
Application Fee for Turkish Work Permit:
Following is the work permit fee for the Turkiye Work VISA Application submission:
Temporary Work permit for up to one year (€119)
Work permit certificate for up to two years (€238)
Work Permit Certificate for up to three years (€357)
Permanent Work Permit Certificate (€1189)
Independent Work Permit Certificate (€1189)
Valuable Paper Fee for each Certificate (€14)
Get yourself ready to apply for a Turkish work permit as per the instructions on this page.