Documents
Thank You Letter for a Scholarship – Sample, Template, Examples
Scholarship Thank you letter Writing Example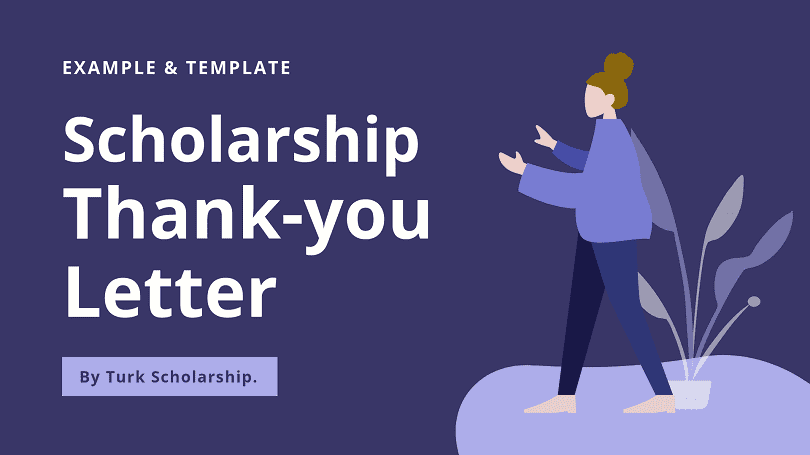 The Thank-you Letter for a Scholarship sent to the organization or an committee member is a professional way to send a sincere Thankyou note. It provides an insight to the organization about your interest towards the scholarship opportunity as well.
How to Write a Thank-you Note for the Scholarship?

You are excited and relieved after receiving your scholarship. And must be relieved that the long-drawn and grinding process of the scholarship is completed, but you should not miss the last step. Take a stride forward by contacting and to acknowledge the generosity of the scholarship committee or donor and its impact on your life how it has facilitated the education process for you and what it means to you.
Scholarship committees or donors are selfless people, and they want to assist you without expecting anything in return. So, Receiving a well-written scholarship from an applicant is always exceptional. It reminds them that their work is being valued and they are genuinely benefiting the students.
If you have received a scholarship, you should write a thank you letter to your scholarship committee or donor. It is not a necessity of the scholarship process. But it shows how much you value this opportunity that you have been given. Your scholarship thank you letter conveys your sincere gratitude and how the scholarship has accommodated or will encourage you to achieve your academic vision.
This Thank You Letter for a Scholarship also carries a way to remind donors that their generosity was well received by the recipient of the Scholarship award. You should encourage the scholarship committee or donor to continue supporting students in the future as well. It will help many other students like its helping you in receiving your education.
You can write a handwritten thank you letter for your scholarship. Use quality paper while writing it. But if your handwriting is slovenly then write it on your computer. Be precise in your thank you letter for scholarships. The overall length of your letter should not be more than 3 to 4 paragraphs. Scholarship thank you letter is appreciable only if it is really sincere, so you must choose your words based on the recipient and the object of your gratitude.
Read it again and again before you send your scholarship letter to your donor or scholarship committee. Avoid grammatical and spelling mistakes. When writing a letter of thanks, consider writing them in a linguistic style, and avoid using slang terms or symbols.
Should I write a handwritten Thank-you Letter?
If a scholarship is granted to you, It is advised to write a thank you letter to scholarship committees or donors and a handwritten thank you note for the scholarship can also be accepted. Remember; Typed letters, as well as handwritten letters or notes, are also accepted. But If you decide to write a handwritten letter, use a card or piece of stationary. It is essential to know the correct letters, etiquette when writing a scholarship letter of thanks, such that the message is transmitted efficiently. In the next section, we will consider to make up this form of writing and also provides a sample of the thank you letter for scholarship.
Tips on Writing the Thanks Note

If you had the opportunity to receive a scholarship for university or higher education. Why not take a few moments to express your gratitude to the scholarship committee or donors that awarded you this scholarship? Scholarship donors are kind and caring people. These are people who, in general, do not expect anything in exchange for their help, but receiving a thank you letter from a student beneficiary is always unique and tells the donor that the scholarship offered was much appreciated. Your letter reminds them, first, why they made this donation and often encourages them to continue, to provide more scholarships to future students.
The following thank you letter template can be used a sample for your scholarship thank you letter:
Scholarship Thankyou Letter Example, Template and Sample:
August 25, 2019,
Dr. Smith, Jordan R. Cruise Memorial Scholarship,
Center 13/4 Chantal,
California.
Dear Dr. Smith,
I was delighted and grateful to learn that I was chosen as the recipient of your scholarship. Taking this opportunity, I aspire to express my sincere gratitude for the chance that your scholarship has provided me. I am sure that this scholarship will allow me to achieve my goals. I hope that the results will justify your faith in me.
I am a student of bachelor's degree at the California university of science and medicine. I have great enthusiasm for my Subject (Biology). I expect to complete my education in 2020. To get more valuable knowledge, shadowing a physical therapist in California Medical center.
Getting this scholarship motivates me to complete my degree. I look forward to being able to give back to the community after I began my career. I thank you for your trust and willingness to help me achieve my goals. With encouragement and recognition, the road I am moving forward is getting wider. I will complete my studies with a grateful heart and will use my youth and efforts to achieve my goals. Your generosity inspired me to help others and give back to the community. Thank you again for your valuable investment.
[Your signature] Emma,
229 Lees Creek St.
Fontana, CA 92335