Freshmen
25 Things to Buy for College Dormitory as Freshmen
What things should i buy for a College Dormitory?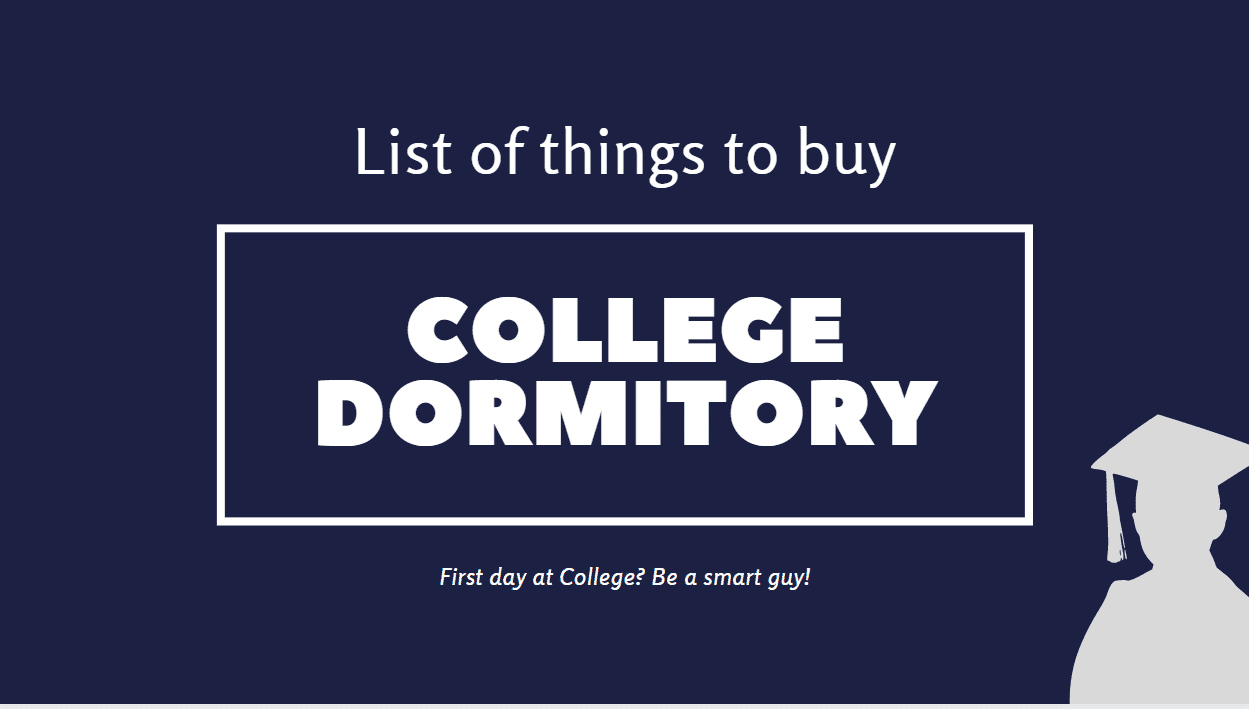 We have made going and settling into college easy by giving you a list of affordable items that you will need to make your college life smooth. This list is very comprehensive with items that you can use in your boarding rooms or in your rented apartment.
List of things you need as freshmen at College
Below is a list of items that a Freshmen student needs to buy for college and dormitory:
Extra storage closet
At the end of every season, you are forced to store unused clothes away to declutter your closet. Getting under bed storage boxes will help you utilize the space under your bed and avoid room congestion.
Bed risers
These go hand in hand with storage boxes that you can keep under your bed. A bed riser will help you to maximize the space below your bed and ensure that you can keep your tiny room spacious.
Safe for valuable items
You do not have to go all the way and buy a steel safe to hide away your valuable items. There are dictionaries or books that can act as safes. You can then place these on your bookshelf and no one will notice. Ensure that they have locks.
Hangers
Hangers help you save space. Whenever you buy hangers, it is advisable to get those that look alike, as these will keep your room looking organized.
Organizers
You do not have to get huge counters that will just consume your space. You can get organizers that are designed to save on space.
A mini-fridge
Get a mini-fridge that has a dry erase board that you can write on to keep your memories fresh and alive. This will give you some little fun as you preserve your food.
A cleaning robot
If you are not a pet person, you can get a mini-robot that will keep you company. Get a robot that can help you with some housework such as cleaning.
Shower curtains
Get a shower curtain that looks fabulous and will ensure that you have a fun shower time. Some of the ideas that you can use for your shower curtain include getting one with images of candy, images of social media trending content, rain images or just get one that is rich in color.
Wall decals
You can add a little pomp and life to your room by using wall decals. Use dry erase wall decals that will help you and your roommates cherish your memories together.
Dual-purpose Ottoman
One of the best ways to save space in a tiny space is to get items that can be used for multiple purposes. Get an Ottoman that you can use as a table, a footstool, and even as a storage space.
Power bank
In college, you may have classes running all day with no time to charge your phone. Having a power bank handy will ensure that your phone stays on all day. Ensure that you also purchase a good charger to go with the power bank.
Mini grill
Get yourself an affordable mini grill that will give you great cooking time and will ensure that you are able to make your favorite dishes.
Headphones or ear dots
Invest in some good headphones that will help keep the noise out. These will ensure that you are able to read even when your room is filled with noisy roommates and visitors.
Furniture decals
Your furniture does not have to be boring. Revamp it by getting great furniture decals that will give your room an ambiance.
Googly eyes
This will help to give you some fun as you study hard. It may sound like a silly item to get but it will cheer up your bad days.
Coffee maker or kettle
A mini coffee maker will help you to make coffee easily. All you have to do is put in a coffee pod and in no time, your coffee is brewed and ready to drink.
Streaming service
Get a good and affordable streaming service company. These will help you to stream movies, music, news, and sports. All you will need is a great internet connection and a television.
School spirit decals
Keep your spirits up with the decals of your school sports teams. This will help to cheer you up and help you treasure wining memories.
Multipurpose keyboard
Make use of your desk space using a multipurpose keyboard. This keyboard has an organizing space that will help you store your desk items. This keyboard also comes with a tablet stand that you can place on top of your computer.
Stylish dryer balls
Make your laundry time exciting and easy with stylish dryer balls. There are many styles to choose from ranging from cactus and even hedgehogs!
S'Mores maker
Although this item may be last on our list, it should be your first priority. You should ensure that you get this on the first day of college!
22. Laundry Basket for dirty clothes
You may need a plastic basket in which you can keep your dirty clothes and wash them when needed in your college or university dormitory.
23. Pillows & Mattress Pad
If you are used to some specific kind of pillow and mattress or a mattress pad then it will also be a good buy for your new college. In the dormitory, you may be given standard pillows and mattress, therefore, it is a good idea to buy one as per your needs.
24. Comforter or Blanket
If your college is in a hilly area or the temperature goes below in your college city then you must take into consideration buying a blanket or a comforter.
25. Towels
Make sure to have towels included in your list of buying things for the college dormitory.