Jobs in 2024
Jobs in Turkey for English Speakers 2023 – Apply Now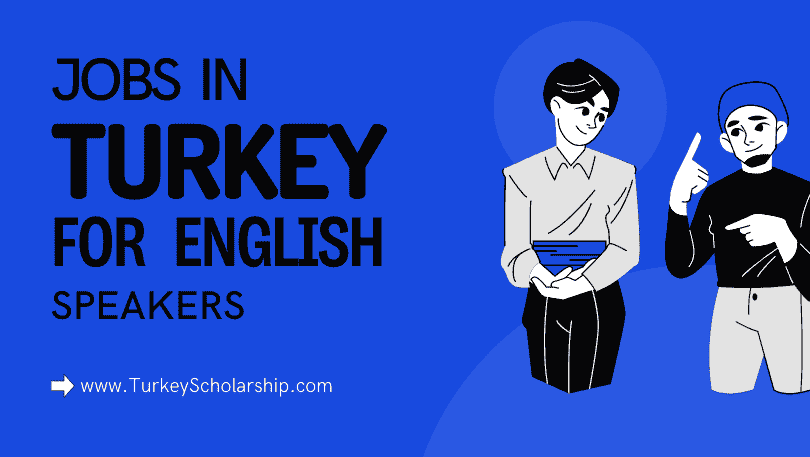 Jobs in Turkey for English Speakers 2023 – Turkey offers some great job opportunities for people who have good English language skills. Those people who can converse efficiently in English can land good jobs in leading institutions or companies in Turkey.
These Turkish jobs ensure handsome salaries and other benefits for these candidates. To know more about the jobs you can get as an English speaker in Turkey, follow this article till the end!
List of 5 Job Occupations in Turkey for English Speakers
Here is the list of the top 5 job occupations in Turkey for English speakers:
Research Associates/Scholars/Fellowships in Turkish Universities
There are numerous job opportunities for people who can converse in English to get enrolled in leading Turkish universities as associates, researchers, scholars, or fellows. The role of a Research Associate, Scholar, or Fellow is to research a given topic. This research work includes the collection and organization of data. This data is then subjected to a rigorous analysis through which different tests are performed to advance research on a certain subject and present new findings.
This is a key role in universities because the studies are vital for the curriculum. Thus, universities commonly demand that candidates show a Master's degree or an equivalent in the research discipline that they are applying for. Some universities may also require previous experience working in the field.
The average monthly salary for a Research Associate in Turkey is TRY 9,040. Some of the top research universities in Turkey that may require Research Associates with proficiency in the English language include Middle East Technical University, Sabanci University, Bilkent University, etc.
English Language Teachers in Turkish Schools or Universities
There is an increasing demand for English language teachers in Turkey. It is due to the importance of English to progress in the modern world. This job requires a good grip on the English language. However, it also requires demonstrating adequate teaching skills so you can cater to the demands of the students. The candidates applying for teaching positions at Turkish schools and universities must meet the qualification requirements.
The candidates applying to teach English in school are required to have a Bachelor's degree in English or a related field. While applying to universities, some universities require a Master's degree in English or an additional teaching course for eligibility. The average monthly salary for a person working as an English teacher in Turkey is TRY 6,140. Some institutions that may require English language teachers include Ihsan International School, The British International School Istanbul, Koc University, etc.
Hoteling Frontdesk Officers
The job of a Hoteling Frontdesk Officer requires proficiency in the English language because the person has to deal with foreign guests. With the hotel industry taking off in Turkey, this is a job occupation that you don't want to miss out on if you are a good English speaker. The role of a Hoteling Frontdesk Officer is to give information about room availability, rates, and other things, register guests, and manage reservations.
Working as a Hoteling Frontdesk Officer does not have any particular education requirements. However, you must be accustomed to office machines and bookkeeping platforms to be eligible for the job. The candidate must also know the basics of MS Word. The applicants might be required to show previous experience working as a Hoteling Frontdesk Representative.
The average monthly salary for a Hoteling Frontdesk Officer in Turkey ranges between TRY 1,640 to TRY 4,710. Some of the hotels in Turkey that hire English speakers as Hoteling Frontdesk Officers include Four Seasons Hotel Istanbul, Hagia Sofia Mansions Istanbul, Intercontinental Istanbul, etc.
The Air Traffic Controller works toward directing the vehicles in the air. Air Traffic Controllers work at towers and after monitoring the conditions give flight clearances. They also have the responsibility to monitor the aircraft once it has left the airport. During this, they have the liberty to inform the pilot of any unfavorable or unusual circumstances to ensure flight safety.
The Air Traffic Controller must have excellent English speaking skills to interact smoothly with the pilot and the other staff. Air Traffic Controllers are required to show an Associate's or Bachelor's degree to be eligible for the job. The average annual salary for an Air Traffic Controller in Turkey is TRY 135,728. The top airlines in Turkey include Turkish Airlines, Corendon Airlines, Pegasus Airlines, etc.
Engineering Jobs in Turkey
There are different jobs in the field of Engineering. Some of the major engineering fields include chemical engineering, mechanical engineering, civil engineering, etc. This is a brilliant field for people who have good English-speaking skills. The primary job of an Engineer is to identify, analyze, and work toward solving certain problems according to the field in which they are operating.
The minimum qualification for Engineers in Turkey is a Bachelor's degree. However, people who have specialized in their respective fields are preferred by firms and employers. Engineering is a high-paying occupation in Turkey with an average monthly salary of TRY 6,610. Companies hiring Engineers in Turkey include Siemens, Turkcell, Insider, etc.
Conclusion 
We hope that you found our list of the 5 job occupations in Turkey for English speakers useful. Follow our website for more such articles!