Jobs in 2024
Jobs at Emirates Airlines 2023 With Eligibility Requirements
What Salary Should You Expect at Emirates Airline?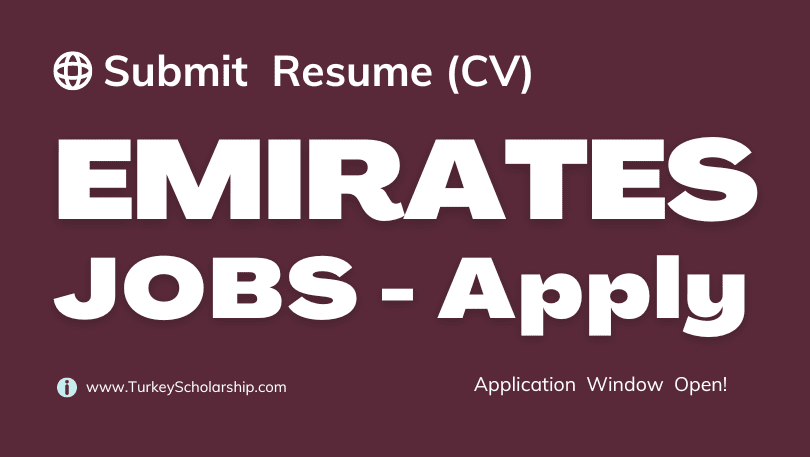 Emirates Airline Jobs 2023 – Emirates Airlines employees make a monthly salary of AED 10,000 on average. Emirates Airlines pays its employees a monthly salary ranging from AED 2,000 to AED 40,000, with a median salary of AED 13,000 per month. These salary figures can vary depending on your job role and position, for example, a Direct Entry Captain's salary package begins from AED 43,650, and a Cabin Crew member's salary can vary from AED 4,000 to AED 10,000 per month. 
Emirate Groups offer competitive salary packages for all their other job roles, such as engineering, dnata's travel, air services teams, finance and audit, commercial, medical services, human resources, procurement and logistics, legal, IT, airline and airport operations, and customer service.
Emirates Job Opportunities in 2023
Emirates Airlines offers a variety of career opportunities for individuals looking to pursue their dreams in the aviation industry. Emirates Airlines has a mix of openings for 2023, ranging from piloting to cabin crew, engineering, ticketing, and more.
As a captain, you have several career paths available to you at Emirates Airlines. From First Officers to Synthetic Flight Instructors, you can become a CRM Instructor, Training Captain, Management Pilot, Flight Operations Audit Captain, and Recruitment Pilot. To be eligible to enter Emirates as a pilot, you will need a minimum of 3000 to 7000 total flying hours, a valid medical, and fluency in the English Language. 
As a commercial pilot, you can expect a basic salary of AED 43,650, based on an average of 85 hours per month. Emirates covers accommodation, utilities, productivity pay (AED 730), annual leave, and education allowance for your children aged 3 to 19. Some more benefits include a provident fund, pension, end-of-service benefits, travel discounts, transport services, profit sharing, and laundry services. Emirates also provides coverage for life and accident insurance, medical, and dental coverage. 
2# Emirates Cabin Crew Member Jobs
You can become a cabin crew member and see the world as part of your career with Emirates. For you to be eligible as a candidate, you should be fluent in reading, writing, and speaking English. If you are bilingual or know more than two languages, it will benefit your resume. You must have a minimum high school education till Grade 12 and a year's experience in hospitality or customer service. As an eligible candidate, you will also be at least 160 cm tall (5'3 ft) and be able to reach 212 cm (6'9 ft) elevated spots. Your visa should meet the UAE's employment visa conditions. The candidate must also have no visible tattoos while in the cabin crew uniform. 
Your dress code must be proper on the day of recruitment. Female candidates must have their hair tied back neatly, a business attire dress code, and heels for shoes. For male candidates, hair should be neat and face clean-shaven, and the dress code is smart-suit dress attire, with formal work shoes. 
You can expect your basic salary to be AED 4430 /month and a flying pay of AED 63.75 /hour for an average of 80-100 flying hours each month. So the average total pays as an Emirates cabin crew member, you can expect a salary package of AED 10,170 a month. The salary package also includes layover expenses, such as meal allowances, hotel accommodation, and transport by Emirates Group. 
To be part of the Emirates cabin crew, you will undergo a seven-step cabin crew training process, which is 7 and a half weeks of safety and service delivery training. 
3# Accountants and Financial Auditors Jobs
Emirates Airlines have multiple openings for their finance department and are looking for professionals who can work in a challenging but rewarding environment within Emirates and dnata. As a candidate interested in pursuing a career in finance, you will find job vacancies at all levels of Emirates. There are departments for revenue accounts, financial reporting, analyzing financial data, internal auditing, and risk management. The average salary in the finance department at Emirates Airlines is AED 13,000 per month. Other than that, Emirates provides competitive salary packages with benefits of accommodation, travel, transport, medical, family support, educational support, and more.
In 2023, you will find job openings for Chief Financial Officer, Finance and Administration Manager, Senior Accounts Assistant, and Business Analyst. These roles provide a learning environment of internal and external financial processes, reporting, and more. 
4# Commercial Jobs at Emirates
If you're someone with a commerce background or are interested in the field, then you should be applying to Emirates Airlines' commercial job openings in 2023. As a candidate, you can expect to work on analyzing the market, assessing performance, and reporting to upper management with insights. The position is ideal for professionals who can create strategies to improve company status and performance and represent the Emirates brand nationally and internationally. 
In the commercial department, Emirates looks for candidates who can be innovative with new business projects and find the value of goods and services for the leisure and corporate travel industries. For motivated experts, eager to increase revenue growth for the group, there are career opportunities in the field of Business Development, Customer Support, e-commerce, International Affairs, Product Innovation, Revenue Optimization, Sales, Strategic Planning, and Systems Development.
5# Marketing and Branding Jobs
Emirates Airlines is looking for skilled professionals who can plan, develop, and execute all Emirates Group communications. Because airlines are people-oriented, you must be able to analyze data and insights, identify relevance, and be creative. Emirates uses marketing communications at a variety of customer touchpoints. 
Job openings in Corporate Communications, Marketing, and Brand include Brand Management, Advertising, Digital, PR, Sponsorship and Events, Social Media, Internal Communications, and Audio-Visual team.
6# Human Resources Jobs at Emirates
Since Emirates is a big global organization that is continuing to expand, the airline requires innovative and adaptable human resource talent to assist the company's growth and commercial objectives.
Emirate Group is looking for passionate HR professionals who are committed to attracting and retaining top talent, developing management and leadership skills, and assisting people in reaching their full potential. 
You can find multiple job openings and work in one of the sub-departments of Emirates Airlines like HR Business Support, Central Recruitment, National Recruitment and Development, Learning and Development, Compensation and Benefits, Corporate Psychology, or Shared Services.
7# Licensed Aircraft Engineers Jobs
Engineers at Emirates Airlines have a variety of opportunities, including working as Licensed Aircraft Engineers in base upkeep, and line maintenance. This job requires a lot of experience because the successful applicant will be in charge of maintaining both the customers' airplanes and the largest fleet of A380s and B777s. The role covers everything from standard maintenance to meticulous heavy repairs of the aircraft and its parts, guaranteeing a secure and spotless end product.
It is necessary to have at least five years of full-scope certifying experience on an Emirates fleet aircraft for at least six months within the previous two years, as well as a GCAA or EASA Part 66 Aircraft Maintenance Engineers Licence type-endorsed with aircraft appropriate to the Emirates fleet.
Emirates provides a competitive tax-free basic salary with company-provided accommodation or accommodation allowance, transport allowance, health care, medical insurance, and at least 30 days of annual leave.