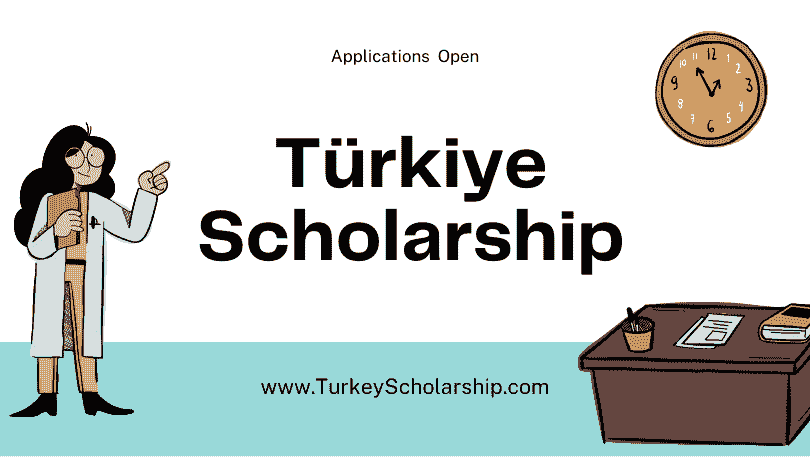 Türkiye Scholarships 2023 – Turkiye Burslari or Turkey Government Scholarships are one of the most sought-after and prestigious scholarships in the world. These scholarships are funded by the government of Turkey and are aimed at international students all across the world. The scholarships are provided to bachelor's, master's, and Ph.D. level students to pursue their higher education in one of the best universities in Turkey.
There are research-based scholarships under Turkiye Burslari as well. These scholarships are meant for doctoral degree holders or students who are working on their dissertations as part of their current Ph.D. programs. These scholarships only provide a monthly stipend. The duration of this type of scholarship is 3 to 12 months.
Benefits of Turkiye Government Scholarships:
Türkiye Government Scholarships are quite generous which is why there is always tight competition among the applicants. The scholarship offers departmental placement, a monthly stipend for students' personal expenses, health coverage, accommodation, and a full tuition fee waiver.
Students are also invited to attend a one-year Turkish language learning program which they can take during the first year of their degree program. Not only this but students are also provided with the reimbursement of their travel costs which will incur when they travel to Turkey from their home countries. At the end of their degree program, they will be given an air ticket to travel back to their home countries.
The stipend provided by the Turkiye Scholarship to students at each level of education is as follows:
Bachelor's: 1,000 TL per month
Master's: 1,400 TL per month
Ph.D.: 1,800 TL per month
The stipend promised by Türkiye Bursari 2023 for students selected for the research scholarships is 4,000 TL per month. Health coverage or insurance allows students to take advantage of a wide range of health services during their stay in Turkey.
There are various social and cultural activities and programs associated with this scholarship. Successful candidates can also benefit from these activities which provide them to shine even outside of the classroom. These programs are known to improve students' social and soft skills and give them a chance to be a part of something other than academia and classwork.
Eligibility Criteria Set for Türkiye Burslari Scholarships
The eligibility criteria for the Türkiye scholarship is divided into two major subgroups. One is students' least academic achievement and the other is their age.
At the bachelor's level, students have to possess at least 70% marks in their previous study program. The master's and Ph.D. level candidates have to score at least 75% in their bachelor's and master's degrees respectively. Students applying in the subject areas of dentistry, medicine, and pharmacy should possess at least 90% marks in their previous degree/certificate in order to be eligible to apply.
The age criteria are different for students applying for merit-based and research-based scholarships. Candidates for merit-based scholarship should age under 21, 30, and 35 for undergraduate, master's, and Ph.D. levels respectively. Students who do not adhere to these criteria will be disqualified at the first stage of the application evaluation process. The research-based Türkiye scholarships require candidates to be under the age of 45.
Citizens of all countries (except Turkey) are welcome to apply. Students must be graduating on or before August 31st, 2022 if they want to apply for the 2023 round of Turkey Government Scholarships. Students who are already enrolled in a Turkish university cannot apply for the same level of the degree program in which they are currently enrolled.
Students either have to possess a C1 level of proficiency in the Turkish language or enter into a one-year-long Turkish language program during the first year of their studies. It is immaterial if the candidate is enrolled in English or Turkish language medium program. They all have to attend the course if they do not possess the required proficiency.
How to Apply for Türkiye Burslari 2023?
The application process for Türkiye scholarships is divided into five simple steps. The program aims to make the application process easy and hassle-free for all its applicants.
All the eligible students first need to make an account on Turkiye Scholarships application portal.
Then, they have to upload all the required documents like their degree, transcripts, identification documents, language certificate, etc. If the candidate has taken part in any extracurricular activities or has any other valuable experience (like voluntary experience), they are also required to add the details of those at this step.
Then, the students are required to select their preferred universities and programs.
Students, at this stage, are required to upload a letter of intent stating why they chose this particular program, what they hope to achieve from it, and their future goals.
Lastly, candidates are given a chance to review the application and make last-minute changes, if any, to be made.
There are certain things to be kept in mind while applying for the Turkiye Government Scholarships. Aptitude tests (like SATs, GRE, and GMAT) may be required by some of the courses and universities. The reason is the high number of applicants in those particular universities or in some of the programs that they offer. These tests make it easier for the evaluation committee to make a decision with regard to candidates' merit.
The same is the case with language tests. Most universities do not require candidates to submit language proficiency tests but some universities have a requirement to submit scores of any of the widely accepted English language tests like IELTS, TOEFL, etc. Applicants are advised to look through these requirements before they start filling in their applications.
Türkiye Scholarship Deadline for Application:
The applications for Türkiye Scholarship will be accepted between January 10th – February 10th, 2023 for the academic year of 2023 – 2024. The applications will be evaluated during the months of March, April, and May. Shortlisted candidates will be invited for an interview during the months of June and July.
Successful candidates can expect the results to be announced at some time in the month of August. The academic year will start in September 2023 which is the time during which students will fly off from their home countries to reach Turkey.
For Research Scholarships, applications are accepted throughout the year. Candidates can submit their applications at any point during the year. The evaluations are however made only in four different months i.e January, April, July, and October.