Turkey Scholarships
Turkey Summer Internships Without IELTS 2023 – Fully Paid – Turkiye Internships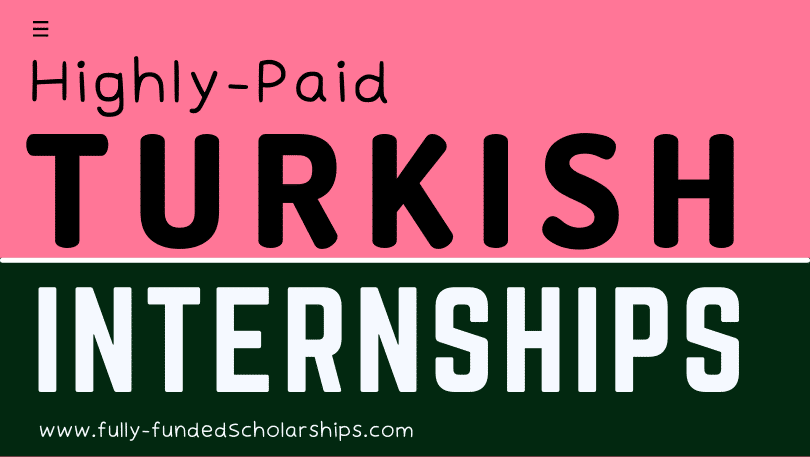 Apply for the fully-paid Turkish Summer Internships in 2023 now. All the most popular and fully paid Turkiye Summer Internships are mentioned in this article for our readers.
Turkey is a culturally enriched country. With a fast-growing economy, beautiful mosques, uniquely delicious food, and sightseeing cities, Turkey is also a common hub for international students. It is the second-highest country for top education.
Salary and Benefits of Internship in Turkey
An internship in Turkey will give you long life lessons and exposure that will help you further in your practical life. You will not only get to work, and have on hand work experiences but also get to enjoy various trips to multiple cities of turkey and enjoy a social life in Turkey. You get to see the local government of Turkey at a close personal level. In addition, you get to participate in local life.
Imagine interning in a country where you are not only exposed to multi-culture but also get decent work experience. It does not sound so bad right?
List of all Turkish Summer Internships 2023
This article will guide you through remarkable internship opportunities laid out in different Turkish cities in various Turkish companies.
1# Novozymes Summer Internships 
Novozymes is a company that develops consumer BioSolutions. They use science to create biological solutions for consumer-facing industries. The position Novozymes is offering is for a Marketing Intern. The time commitment required will be for 5 days per week for a length of one month.
The eligibility criteria for Novozymes Internship are:
Candidates must be in the final year of their bachelor's or just graduated with a degree related to marketing, strategy, finance, or business administration.
Candidates must have an excellent academic record
Candidates must be adaptive learners and have excellent communication skills.
Candidates are supposed to be fluent in English
The application deadline is 15th June 2023 and applicants may fill out the form on the official website.
2# Resimli Film Prodüksiyon Sanayi Ve Ticaret Limited Şirketi
Resimli Film is an animation studio based in Turkey. It is recruiting for an intern who is capable of graphic designing for the animations. The graphic designer is expected to create new font styles and typography for the animated designs and games. In addition, the designer is anticipated to manage social media production.
All undergraduate students who are fluent in English can apply. This paid (five thousand liras) internship opportunity in Turkey will be open soon.
3# QNB Finansbank Internships
QNB Finansbank is a top Turkish bank that offers a month-long summer internship program that starts its application process by the start of June and selects its candidates by the initial dates of July. It is the right platform to allow students to apply their theoretical knowledge during their university education.
You will only be eligible for the program if you fulfill the following terms and conditions:
Candidates must have an advanced level of English language skills; they must have well professional behavior and communication skills. The applicants must have a cumulative average GPA score of at least 2.6, priority will be given to students whose field of study is related to the Banking Industry, and priority is also given to Qatar citizens.
The applicants will undergo a face-to-face interview and they must agree to the working hours and internship fully.
4# ENKA 2022 Summer Internship Program
ENKA is one of Turkey's leading engineering and construction companies with over 19,000 global employees with an experience of 60 years.
ENKA offers the applicants a chance to gain enough business experience during their academic life.
Applicants may apply if they fulfill the following eligibility criteria:
Applicants must be a 2nd, 3rd, or a 4t year undergraduate student who has a compulsory internship requirement
Applicants must accept to work five days a week till the internship ends
Applicants must have a minimum of GPA 3.00
Applicants must have a progressive level of English (proficiency in a second language is a plus)
Applicants must have a set of excellent communication skills
5# LEDA Pharma Internships
LEDA Pharma Pharmaceutical Industry was established by Levent BAKKAL. It aims to produce food supplements and is situated in Kocaeli.
The internees will be responsible for planning, implementing, and reporting on information they have gathered from the market. This will allow them to under the company's position and perceptions.
The working hours are from 8:00 am to 5:00 pm, from Monday to Friday.
The eligibility criteria for this unpaid internship are that the students must have fluency in the English language and an undergraduate degree background in business administration and marketing.
6# Aygaz oil and gas Internships
Aygaz provides internship opportunities to undergraduate students so they can have a full insight of working in a professional environment.
The internship applications can be filled out through the cooperates official website. The applications are open from February to April. However, the program initiates from June to September. They have multiple sessions, each of which runs for four to six weeks.
The criteria for the Aygaz Oil and Gas internship program are:
Candidates are required to come in for an interview after their selection.
Candidates must be in the third year of their degree.
Candidates must have a relevant degree to the program
Candidate must have an excellent academic record
Candidates must fulfill each department's intern quotas
7# Softtech Internship Program
Softtech Internship Program is for software developers who re-polished and are molded with professional experience to develop modern solutions on certain subjects in the software world.
This internship is a long-term summer internship program.
The candidates must have an exceptional academic record, they must be highly enthusiastic and motivated. The candidates must be fluent in English. In addition, their degree must also have a software background.
The application deadline is the 16th of June 2023 and to apply you may visit their official website.
8# Daiichi Sankyo Internships
Daiichi Sankyo is a multinational supply chain company that offers a Supply Chain Long-Term Internship. This supply chain company offers its candidates a thorough experience of technology through mentors, further career opportunities, and access to the latest technology. Most importantly, you must have a certain level of knowledge in ERP system (SAP) logic.
The candidate must fulfill the following criteria:
You must have a certain set of qualifications
You must be a student of 2nd, 3rd, or 4th-year undergraduate student who is majoring in Computer Science or any other related field.
You must be available five times a week
You must be fluent in English
You must have a strong set of communication skills to communicate tween the production team and the supply chain, team.
You must be enthusiastic about Supply Chain and material planning
You must be learning the E2E process
You must be teamwork-oriented and have a multitasking and analytical personality that works well under pressure.
The internship will last from June to August. You will be given a chance for personal growth in a challenge in a modern company. The application can be filled out on the official site of Daiichi Sankyo. The last date for applications is 18th June 2023.
9# Mayadem Teknoloji Internships
Mayadem is an international company that operates in the educational and entertaining children's games industry in Turkey. This company has fifty applications and seventy million downloads. There are currently six global projects in Mayadem. If you are an aspiring psychologist, then this is your internship opportunity.
The basic duties for the internee will be that they will be looking for a Psychologist Intern who will contact psychologists, teachers, and specialists. They will also require keeping a check on the children's content, creating social media content helping with the latest content ideas, and doing professional research. Lastly, the selected candidates are expected to separate contents and achievements according to the ages of the children (this process will be taught).
This internship opportunity is more remote than on-site. However, if you are willing to visit the office, the office is situated in Istanbul. The requirements for the candidates willing to apply are as follows:
Candidates are required to have a good research set of skills
Candidates must also have adequate knowledge of WordPress and play Store.
Candidates must be studying psychology-related filed
Candidates must be undergraduate third-year students
Candidates must be fluent in Turkish and English
Candidates must be creative, willing to learn, and have their own blogging site.
The application deadline is 18th June 2023. You may apply for the Mayadem Internship Program on their official website.