Fully Funded Scholarships 2024
Turkey Government Scholarship 2024 Final Call for Students
TURKEY GOVERNMENT SCHOLARSHIPS FOR UNDERGRADUATE, GRADUATE, & Ph.D. DEGREES: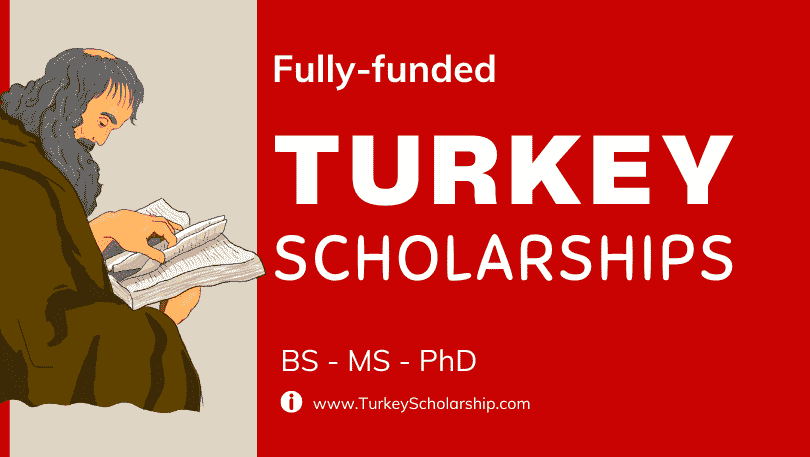 Applications for the fully-funded Turkish government scholarships, sponsored by the reputable government of Turkey, in partnership with prestigious Turkish Universities, are currently open for the coming session of 2023-2024. Eligible potential candidates from every part of the world can try their luck and apply for these fully-sponsored scholarships online without IELTS scores.
No wonder studying in Turkey under a government-funded scholarship is not more than a dream come true. Such Turkey government scholarships are open for all types of degree programs, including BS, MS, & Doctoral degrees under various disciplines. Moreover, selected candidates will get dozens of valuable benefits to cover their academic and financial expenditures throughout their educational journey in Turkey.
Courses Available for Turkey Government Scholarships:
Following are the academic courses for which students can apply for Turkey scholarships:
Biotechnology
Biomedical Engineering
Medicine
Computer Engineering
Biochemistry
Physics
Engineering
Food Engineering
Math
Biology
Agriculture Economics
Horticulture
Soil Science
Plant Nutrition
Geological Engineering
Duration of Turkish Government Scholarship Programs:
The duration of the Turkish scholarships varies with the chosen degree program, for instance;
For Bachelor's Degree: 4 Years with 1 Year for Turkish language preparation.
For Master's Degree: 2 years with a 1-year Turkish Language course
For Ph.D. Degree: 4 years and 1 year of free Turkish Language course
Sponsorship Coverage by Turkiye Funded Scholarships:
Winners of these generous scholarships will get the following applauding benefits till the degree completion:
Selected recipients will get a golden chance to complete their higher education degrees in English under this scholarship.
Tuition-Free education throughout the degree program is available for the winners.
Health & Medical Insurance are other privileges that will cover under this program.
Public Health insurance will handle the health and medical expenses of a candidate.
Moreover, winners will also get accommodation facilities at the universities' dorms or hostels.
In the same way, a one-year free Turkish language course is another gift by Turkey govt sponsorship programs.
Scholarship rewards will also be granted to the winners. However, the amount is different for each program, like; for BS: 1000 TL/ month, for MS: 1400 TL/ month, for Ph.D.: 1800 TL/ month
Free Air Travel Tickets, one for departure and one for arrival.
Funds for research project & thesis.
Scholarship winners will also participate in social and cultural activities.
Who can Apply for Turkey Scholarships:
Students of all nationalities can apply for the funded scholarships offered by the honorable government of Turkey, except for Turkish citizens. On the other hand, those who have lost their Turkish citizenship can also apply for these scholarships.
Is IELTS necessary for Turkiye Scholarship Programs:
No, IELTS scores are not mandatory. However, interested individuals can submit their TOEFL scores or provide English language certificates to show they are capable enough to take any course at a Turkish university in English.
Eligibility Requirements:
Before applying for the merit-based Turkey scholarships, check out the eligibility criteria to avoid any inconvenience in the end:
The minimum academic requirement of Turkey scholarships for a BS degree is 70%, and for MS & Ph.D. degrees, it is 75%. However, for Medicine, Dentistry, & Pharmacy, it is 90%.
The age Limit is; 21 years for BS, 30 years for an MS degree, and 35 years for a Doctoral degree.
Graduates who are about to complete their education and graduate before August 2022 can apply.
A student doing an MS degree at a Turkish university cannot apply for MS scholarships. However, that individual can apply for Ph.D. scholarships.
Applicant's all academic certificates and transcripts must meet the benchmark of scholarship criteria.
The interested applicant must not have any health problems.
However, for the short scholarship program, an additional application is required.
The applicant must have cleared international exams, like ACT, SAT, or IB to become eligible for these scholarships.
TOEFL or any other language test, except for the IELTS, is needed to check the English language proficiency of those applicants who want to take the course in English.
Application Process:
The application process is online and quite easy. Visit the official site of Turkiye Burslari scholarships. Then, create your personal account on the Turkiye Scholarship Application System. Fill out the required fields with correct information and upload the required documents, including your participation in the extracurricular activities. Do not forget to list your university and program preferences. Then, write an original Letter of Intent explaining your goals, choices, and expectations. Lastly, review your application & documents thoroughly and apply before the due date.
List of Required Documents for Application of Turkey Scholarship:
Following is the list of documents needed to submit along with the scholarship application for Turkiye Government scholarships:
National Identification Document or Valid Passport
A recent Photo (passport size)
National exam scores (optional)
Diploma or Temporary Graduation Certificate
Academic Transcripts
International exam scores (GRE, GMAT, DELF, YDS, etc.)
Language test scores (if required)
Application Deadline:
The last date to submit an application for the Turkey Government Scholarship online is February 20, 2023.