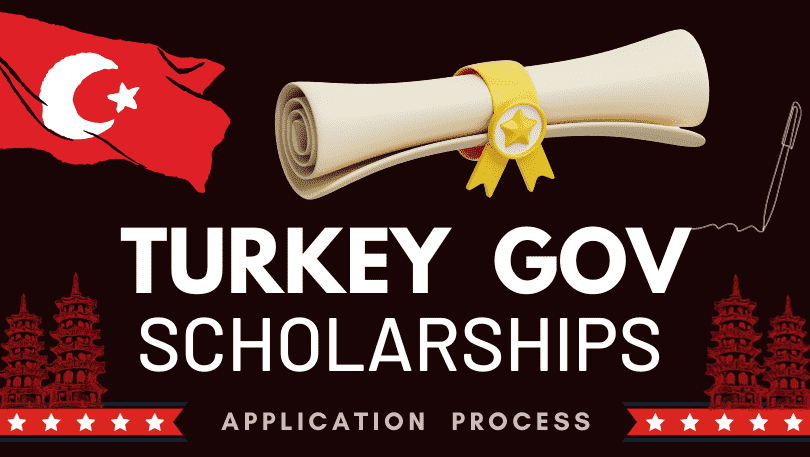 Turkey, known for its rich history and cultural diversity, is also a hub of educational excellence. The Turkey Government Scholarship 2024-2025 presents a remarkable opportunity for international students to explore this vibrant country while pursuing their academic goals. This fully funded scholarship is an initiative by the Turkish government to foster global educational cooperation and cultural exchange.
The Turkey Government Scholarship for the years 2024-2025 provides a fully-funded opportunity for international students to pursue undergraduate, master's, and PhD degrees for free in Turkey and there is no need to pay application fees to get considered for Turkey Gov scholarship. The Turkiye Burslari Scholarship also offers a monthly stipend money of up to 1600 TL, full tuition fee coverage, a round-trip flight ticket, health insurance, and accommodation support to international students.
The scholarship is available for undergraduate, master's, and PhD studies, covering a wide array of disciplines. It aims to support students by providing a comprehensive package that includes a monthly stipend, full tuition waiver, return flight ticket, health insurance, and accommodation. This initiative is part of Turkey's commitment to enhancing its role as a global leader in higher education and cultural diplomacy.
Turkey Government Scholarship 2024 Funding Package:
Monthly Stipend: Undergraduates receive 1000 TL, master's students get 1400 TL, and PhD students are awarded 1800 TL per month.
Full Tuition Waiver: The scholarship covers the complete tuition fees for the duration of the study program.
Health Insurance: Recipients are provided with health insurance, ensuring a worry-free study experience.
Round-Trip Airfare: The scholarship includes a return flight ticket to Turkey, easing the financial burden on students.
Accommodation: Beneficiaries are offered comfortable living arrangements for the duration of their studies.
Turkish Language Course: A one-year language course is provided to help students immerse in Turkey's rich linguistic heritage.
Eligibility Criteria for Turkey Government Scholarship 2024:
International students, here's an updated overview of what you need to know about the eligibility criteria for the Turkey Government Scholarship 2024-2025:
1# Language Proficiency Requirements:
While the scholarship does not require TOEFL or IELTS scores, you must meet one of these minimum English language proficiency standards:
TOEFL iBT: Minimum score of 79.
IELTS: Minimum score of 6.5.
Pearson Test of English (PTE) Academic: Minimum score of 110.
Cambridge Advanced English (CAE): Minimum score of 100.
Duolingo English Test (DET): Minimum score of 176.
Applicants who do not meet these requirements must complete a one-year Turkish language course before starting their academic program.
2# Academic Criteria:
Turkiye Government scholarship is open to all international students and Researchers or academicians from Turkiye friendly countries and following are its required qualification criteria:
Bachelor's degree applicants: Minimum 70% in prior academics.
Master's and Doctorate degree applicants: Minimum 75%.
Health Science applicants (Medicine, Dentistry, Pharmacy): Minimum 90%.
3# Age Criteria:
Undergraduate programs: Applicants should be under 21 years.
Master's programs: Applicants should be under 30 years.
Doctorate programs: Applicants should be under 35 years.
4# Non-Eligible Applicants:
Turkish citizens or former Turkish citizens.
Students currently enrolled in Turkish universities at the same study level.
5# Additional Requirements:
An official academic transcript with detailed records.
A compelling Statement of Purpose. Incomplete or poorly written SOPs can result in rejection.
Applicants should be in good health.
Turkey Government Scholarship 2024 Application Process:
Follow these step-by-step instructions to apply for the Turkey Government Scholarship 2024:
#1 Registration and Application Process:
Create an account on the official scholarship website: Turkey Scholarships Application Portal.
There is no application fee for the Turkey Government Scholarship 2024.
Applications must be submitted individually via www.turkiyeburslari.gov.tr.
Only the candidates themselves can apply; no third parties or institutions are authorized to apply on behalf of candidates.
Read all instructions and warnings carefully on the application system.
Submit and upload the required documents directly to the application system.
Applications sent via post, courier, or hand-delivered will not be accepted.
Remember, applying for the scholarship is completely free of charge.
The scholarship includes both the scholarship award and university placement. Applicants will be placed in a university and program based on their three preferences indicated in the application system.
#2 Completing the Application:
Fill out the application form on the website and ensure you have all the required documents ready.
#3 Add Required Documents in Application System:
A valid National Identification Document or a valid Passport.
A recent photograph of the candidate (must be a clear portrait for identification purposes).
International exam scores (for candidates without international qualifications or certifications).
Diploma or temporary graduation certificate.
Academic transcripts (ensure they are official; online screenshots and uncertified transcripts may negatively impact your application).
International exam scores (GRE, DET, GMAT, IELTS, DELF, CAE, YDS, PTE, YÖS, etc.) if required by the chosen university and program.
A research proposal and a sample of written work (only for PhD applicants).
Turkey Government Scholarship Application Deadline:
Application Period: January 10, 2024 to February 20, 2024
Program Duration: Varies depending on the study level