Scholarship Result & interview
Result Announcement+interview Call letter: Turkiye Burslari Scholarship – Turkey Government Scholarship
Turkey Government Scholarship Result Announcement with Interview Schedule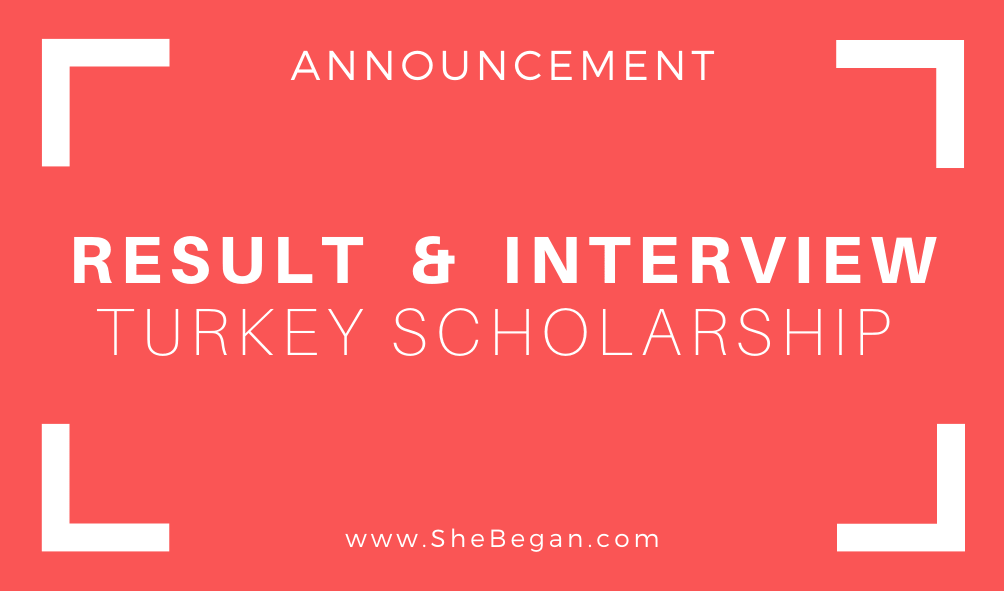 Result announcement for Turkey Government Scholarship 2020-2021 session subject to the following timeline. The interview call for the round 1 successful candidates of Turkish Scholarships is expected soon.
Assessment and Selection
All applications applying for the Türkiye Scholarships are evaluated on a set criterion of the candidates' academic performance, extra-curricular participation, and other credentials. The selection of the candidate, here, is particularly dependent on their clearance of the eligibility criterion for the program and for their overall social and scholastic achievements.
Initial Evaluation:
The applicants are initially evaluated over a few conditions like their said academic grades, age, and a set of particular documents, etc.
The Short Listed Candidates:
The applications of applicable contestants are then scrutinized by the experts in the committee board . They consider a range of standards such as the prior qualification of the applicant, their academic aim and interest, their determination, participation for the greater cause, and the quality of their letter of intent, etc. to create the final list of the top contenders for the interview.
The Interview for Turkey Scholarship Selection:
Interview committee board, consisting of scholars and experts, then interviews the few final contenders in about more than 100 different countries.
Questions to prepare for an interview of Turkey Scholarship Selection Procedure:
These interviews are generally of 15 to 30 minutes long and they have a particular format, as shown below, of being conducted.
Introduction
Document Verification
Applicants motivation and intentions
Knowledge and Ambitions
In the end, with if any, queries to the committee.
An interview, however, does not guarantee the selection of the candidate for the Turkish Scholarship award.
As a side note, all the selected applicants must remember to keep all of their documents, certificates and transcripts for the interview. These must be for all years of their education, especially, if the applicant has yet to graduate.
Selection of the Candidate for Turkey Scholarship:​
The selection committee then uses the evaluation made by the interview committee to create the final list of candidates suited for the award nomination. The members of the committee evaluate the applicability and appropriateness of the final contestants for the Türkiye Scholarship.