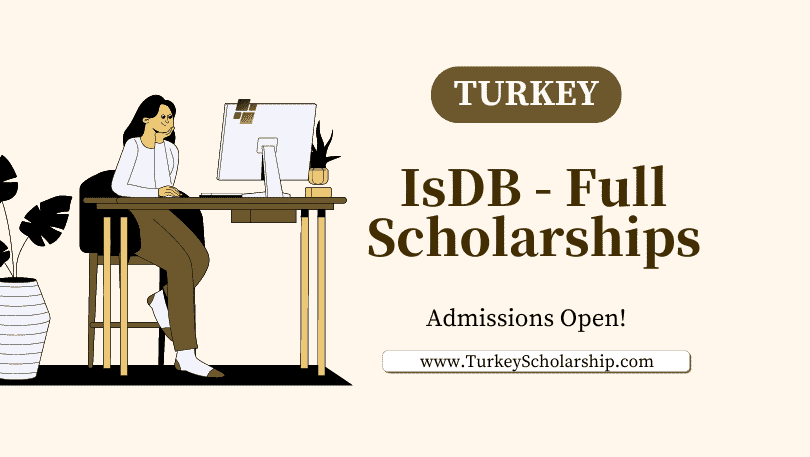 Applications for the fully-funded Islamic Development Joint Scholarships are open online for the current session of 2023-2024. Interested overseas candidates with financial hardships but great academic potential, eager to study in Turkiye, can apply for these scholarships and enjoy an advanced and innovative learning environment with financial and scholastic coverage.
Learn more about the IsDB Joint Scholarship Program:
During my educational days, luckily, I got the chance to complete my higher studies in Turkiye under a funded scholarship program. Studying at one of their prestigious universities, especially with a scholarship, was not more than a dream come true.
It was such a beautiful and memorable experience that I could not resist convincing my overseas friends to come to Turkiye and complete their further studies here under any of their suitable scholarships. I also told them about IsDB scholarships, a fully-sponsored program by the renowned YTB & Islamic Development Bank for deserving international applicants.
These IsDB scholarships are known for providing outstanding learning opportunities to overseas students in Turkiye to promote economic, academic, social, & cultural development among the IsDB partner countries.
Who is Eligible for IsDB Joint Sponsorship Program?
Passionate and Talented applicants from IsDB member countries and students from the Muslim Communities of Non-Member states, like Afghanistan, Yemen, Azerbaijan, Mali, Guinea, Tunisia, Lebanon, Bahrain, Uganda, Niger, Brunei, etc., can apply for these scholarships.
Moreover, eligible applicants from the above-listed countries can apply for IsDB scholarships for Undergraduate and Postgraduate programs in different subjects offered at Turkish Universities.
In the meantime, postgraduate winners of IsDB scholarships are required to refund the 50% amount given as monthly stipends to them during their educational journey. However, this amount will be returned to the Islamic Development Bank Local Education Foundation Fund.
Fields Available for IsDB Joint Scholarships:
Following are the fields open for the very generous Islamic Development scholarship programs:
Medicine
Maritime Engineering
Environmental Engineering
Civil Engineering
Geometric Engineering
Food, Science, & Technology
Agriculture
Botanic
Soil & Water Sciences
Horticulture
Dentistry, etc.
Let's Check What IsDB Scholarships have to offer?
As said above, it is a fully-covered scholarship that covers almost every educational and personal expense of scholars, including residential facilities, air flight tickets for round trips, monthly stipends, full tuition fee waivers, health insurance packages, and a Turkish Language course free of cost for one year, etc.
How to Apply for IsDB Joint Turkiye Scholarships:
The application procedure for the very noble Islamic Development Joint Scholarships is online. All you need is to visit the Turkiye scholarships official site and create your account. Then, select 'yes' in the application for IsDB scholarships and proceed further with the required documents. Next, submit your applications and wait for the final announcement.
Deadline for IsDB Scholarships:
All interested individuals are directed to submit their online applications for IsDB scholarships before February 20, 2023.