Study in Turkey
Turkey Government Scholarship Result 2020-2021 – (Turkiye Burslari Scholarship)
Turkiye Burslari Scholarship Result Announcement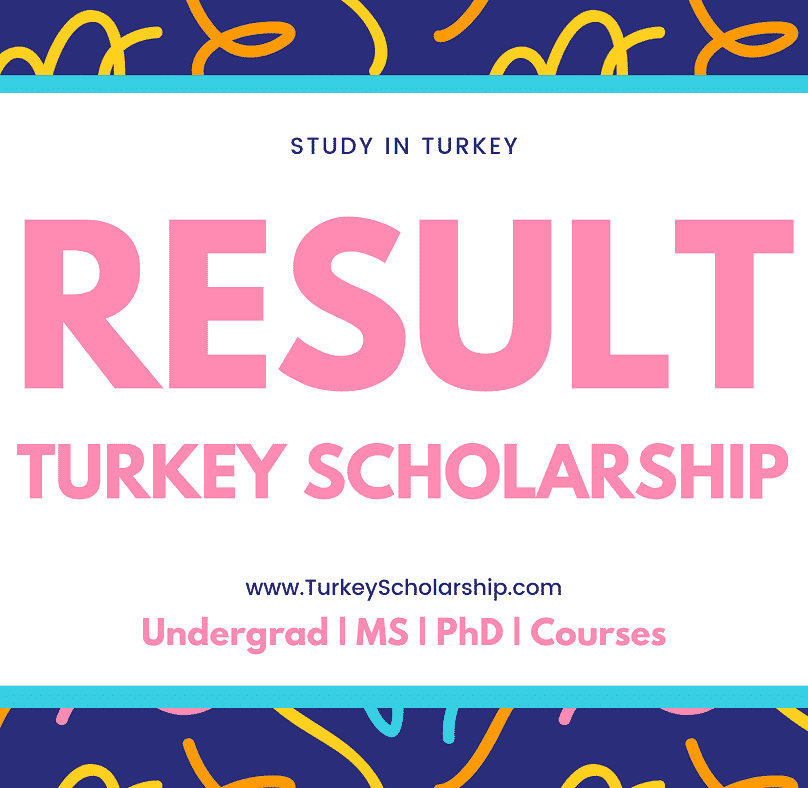 The Turkey Government Scholarship (Turkiye Burslari) 2020-2021 result announcement will be followed as per the below-mentioned timeline:
Turkey Scholarship Opening Date for Applications: January 1, 2020
Turkey Scholarship Application Deadline: February 20, 2020
Evaluation Date for Turkey Scholarship Applications: February – April 2020
Turkey Scholarship Calls for Interviews: April – May 2020
Turkey Scholarship Announcement of Results: July 2020
Turkey Student Visa Procedure and Agreement: July – August 2020
Commencement of Classes: September 1-15, 2020
Turkey Government Scholarship Applications Review:
Once the submission of Turkey Scholarship applications is closed, the evaluation process begins – which basically involves a complete review of candidates and their applications such as their personal information, study history, etc. – and will be completed by the end of April.
The students who successfully submit their applications ought to be patient and pay continued close attention to their e-mail inbox and spam folders.
Interview Calls for Turkey Scholarship (Turkiye Burslari Scholarship)
The selected students will be called into the next round for interviews for Turkey Scholarship award via the provided e-mail by the end of April. This e-mail will contain the required information and schedule for the interview.
Note that the students are advised to check their e-mail inbox and spam folders regularly in order to ensure that they don't miss out this outstanding opportunity.
Turkey Scholarship (Turkiye Burslari Scholarship) Result Announcement
After the successful completion of interviews for Turkey Scholarship Selection, a panel of top-notch staff is assigned to evaluate the students on the basis of their interviews. This staff will then put forward the final decision regarding the selection of students and schedule their placements in the Universities in Turkey by July 2020.
The successful students are required to confirm/accept/sign their admission and Turkey scholarship once they have received the selection e-mail.
The Turkey scholarship and admission documents will be provided to the selected students along with their student VISA form. The students are then required to complete all the required documents and apply for Turkey Student VISA at the Turkish Embassy located in their country of residence/nationality.
Once the students have successfully received their Turkish Student VISA, they are required to purchase airplane tickets for Turkey and make necessary arrangements regarding their journey. Once the students reach their designated Turkish University, they ought to complete their registration for the semester and start their fully funded academic journey under the Government of Turkey.