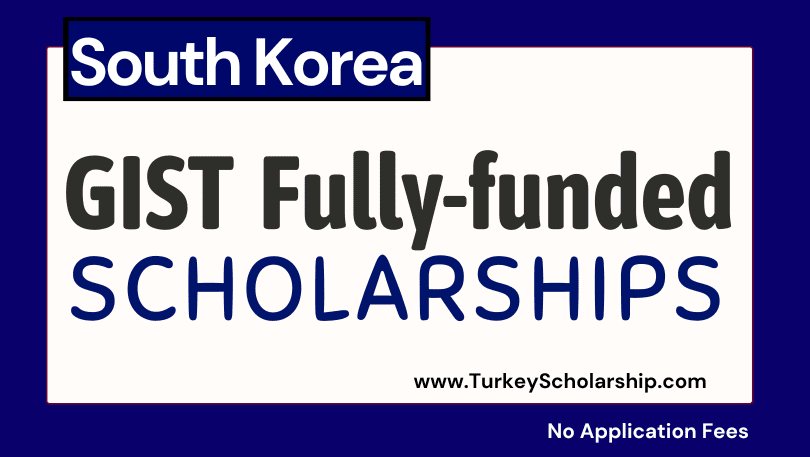 The GIST Scholarship in South Korea is accepting applications for the year 2023. This fully funded scholarship is available to students, researchers, and technical individuals who want to pursue MS, Ph.D., or an MS leading to a PhD degree. The scholarship is intended to support the development of science and technology by training talented students through research-oriented projects and courses. The GIST scholarship is open to international candidates from all countries and covers tuition fees, a one-way airline ticket to South Korea, and monthly stipends.
GIST scholarship is offered by the Gwangju Institute of Science and Technology, a top public university in South Korea which is in collaboration with the South Korean Ministry of Science and Technology. Courses are offered in various fields, including electrical engineering, computer science, chemistry, biomedical science, life science, material science, engineering, physics, environmental engineering, and artificial intelligence. All classes are taught in English. Applications for South Korean GIST scholarships can be submitted online.
Funding of Scholarship in GIST South Korea:
The GIST Scholarship in South Korea offers a range of benefits to international students, including full tuition fee coverage, a monthly stipend, a meal allowance, an international student allowance, and a research assistantship for students participating in research projects.
Regarding tuition fees, all international students will receive 100% support, which means that their tuition fees will be waived.
As for the monthly stipend, the amount varies depending on the degree level of the student. Master's degree students will receive a monthly stipend of 140,000 Won, while PhD students will receive a monthly stipend of 295,000 Won.
Both MS and PhD students will be given a meal allowance of 100,000 Won, but they must have completed at least 9 credits in the previous semester in order to receive this allowance.
An international student allowance of 120,000 Won will be provided to both MS and PhD students, but only if they maintain a GPA of 3 or higher out of 4.5 in the previous semester.
Students who are participating in research projects will also be eligible for a research assistantship. MS students will receive a research assistantship of 5,461,249 won per year, while PhD students will receive a research assistantship of 12,513,688 won per year.
In addition to these benefits, the scholarship will also cover the cost of a one-way flight to Korea for all international students.
Finally, the scholarship provides partial coverage (60%) of national health insurance for all international students. This insurance includes annual medical checkups.
GIST Scholarship Eligibility Criteria:
To be eligible for the GIST Scholarship in South Korea 2023, the applicant must:
Have completed, or be on track to complete, their bachelor's degree before enrolling at GIST.
Hold a bachelor's degree that is equivalent to a Korean bachelor's degree.
Be an international student.
Be proficient in English.
Application Process for GIST Scholarship:
Here are some points to follow while applying for GIST Scholarship. Here are some key points about applying for the GIST South Korea scholarship:
The applicant must apply online for the Korean scholarship. Official links are provided at the end of the article.
The applicant must submit a matriculation fee of 680,000 KRW, although this fee may be waived on the recommendation of the dean or head of the department or college.
In order to apply successfully, all applicants must carefully fill out the GIST online application form and make sure to provide all required information.
If an applicant is unable to provide certain information, they should not leave the field blank, but rather write "NA" (not applicable) to indicate that the information is not available.
Documents Required for GIST Scholarship:
Official transcripts and degrees with either apostille or notarized copies
Two letters of recommendation with signatures and stamps from recommenders (no need to send them separately)
Official English language test report (e.g. TOEFL, IELTS, TOEIC, NEW TEPS) or a certificate of English proficiency from the applicant's university
Copy of applicant's passport
Scholarship Application Deadline:
The deadline to apply for the Gwangju Institute of Science and Technology scholarship for the year 2023 in South Korea is on April 15, 2023.
Apply Now: https://service.gist.ac.kr/admission/graduate/foreigner
Official Link: https://www.gist.ac.kr/iadm/html/sub04/0401.html